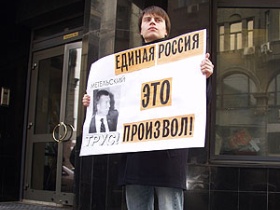 The Moscow leader of the liberal Yabloko party youth wing has been arrested and charged in the Russian capital. As the Sobkor®ru news agency reported, Ivan Bolshakov stands accused of falsifying signatures during his 2007 campaign to the Public Assembly of Moscow's Yuzhnoye Butovo District. He is already facing charges of "beating a militsiya officer," filed in May of last year.
Bolshakov was detained, and later released by officers on April 8th 2008. He told the Yabloko press-service by telephone that his interview was led by the same major he supposedly attacked.
The original charges stem from a sanctioned protest of Yuzhnoye Butovo residents that was broken up by the militsiya in May 2007. By the official account, Ivan Bolshakov violently attacked one officer, breaking his arm. Bolshakov himself called the accusations ungrounded, and claims they are fabricated.
The young activist faces a possible sentence of 5 to 10 years.
Similar charges of "beating an officer" were recently levied against Maxim Reznik, another Yabloko leader in St. Petersburg. Reznik was sentenced to two months behind bars pending an investigation, but was ultimately released with a written order not to flee town.