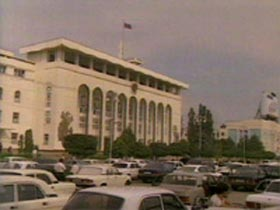 Makhachkala, Dagestan, February 29th:
Two journalists were attacked and beaten in the capital of the Republic of Dagestan, Russia. As the Novaya Gazeta newspaper reported on March 1st, the victims were Zaur Gaziev, a political columnist for the daily "Svobodnaya Respublica" (Free Republic) newspaper, and Ruslan Gabibulin, a television anchor for the "Dagestan" regional state-owned broadcasting company.
According to Gaziev, doctors have diagnosed him with a concussion of the brain, but he refused hospitalization out of fear for his family. Gabibulin, who had a tooth knocked out and has a swollen cheek, said that he feels "normal, compared with Zaur."
As Gaziev explained, the two men were attacked as they returned home. As Gaziev exited his car, three men emerged from a nearby VAZ-2114 automobile and knocked him to the ground. Three more men came out of a silver Mercedes and began to pummel Gaziev. Gabibulin, who was still in the car, jumped out and was also assaulted. According to Gaziev, the ordeal lasted around five minutes. The two victims did not notice any distinguishing marks on their attackers.
Asked whether the attack was connected with his professional activities, Gaziev said that he "regularly" receives threatening phone calls, and that he has even published the callers' phone numbers. "If you engage in political journalism, then you understand that it's impossible otherwise," Gaziev said. "One of my latest articles was about the head of the local state-owned TV and radio company. But it could be anything: In Dagestan, the enemy of your enemy could order [an attack] on you, [just] to set him up. I often changed the initials of my protagonists or "made a mistake" with their last names, so they wouldn't drag me through the courts. But when you publish an article, for some reason they don't go to court, but threaten you instead."
Ruslan Gabibulin believes that he was targeted just for being in the wrong place at the wrong time. "I don't deal with politics," he said, "I have a kid's show, about cars and the like. What's more, they first and foremost rushed to attack Zaur. He writes on current events, touching on the Republic's whole political spectrum. He must have many enemies."
Russia has become a dangerous place for critical media voices. A recent report by the international Committee to Protect Journalists named Russia as one of the most deadly countries for reporters. The paper found that Kremlin politics were the major reason for the worsening conditions.