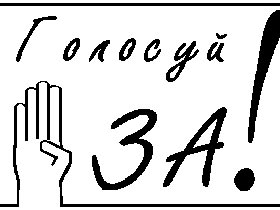 In an apparent effort to increase voter turnout, employees of Moscow companies are being forced to participate in Russia's presidential election. As an employee of the Moscow Unified Energy Company told the Sobkor®ru news agency, company bosses were compelling workers to take out absentee ballots and vote at work. Staff were told that they would otherwise lose raises and promotions. The employee noted that an analogous situation took place before the December 2nd State Duma election.
According to the Golos Association, which maintains a hotline for reports of voter fraud, the practice is widespread. The group reported that they had taken calls from universities, hospitals and social institutions around Russia. Voters were frequently told, both implicitly and explicitly, to vote for Dmitri Medvedev.
The outcome of the election, set to take place on March 2nd, is all but decided. Dmitri Medvedev, who carries an endorsement from President Vladimir Putin, is favored by a wide margin. Yet it appears that authorities were concerned that low voter turnout could call the election's legitimacy into question, and were using any means necessary to raise it.
As The Moscow Times reported, much of the pressure stemmed from local authorities, apparently attempting to curry favor from the presidential administration.
Kremlin critics have charged that absentee ballots were used in past elections to falsify results.
According to Russia's Central Electoral Commission, some 2 million 400 thousand absentee ballots were distributed by February 27th. A total of 2 million 600 thousand were printed.
By comparison, 2 million 400 thousand absentee ballots were printed before the December 2nd State Duma election. Of those, only 1 million 350 thousand were claimed by citizens.