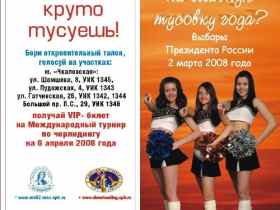 The administration of the Petrovsky municipal district in St. Petersburg has hatched a plan to bring voters to Sunday's presidential election. As the district's press-service reported on February 26th, citizens will be offered small pies and free tickets to a cheerleading tournament for voting on March 2nd.
The press-service explained: "The "Petrovsky district" of St. Petersburg has decided to not to limit itself to 1 ruble [(€.028 or $.04)] electoral pies [filled with] red bilberry, apples, and meat. The District head will appear in a fitting guise. A lottery with great prizes given out by a baby-mammoth-Olympian [the mascot of the 2014 Olympics planned for Sochi, Russia] – that's another surprise residents of the northern capital will receive at the District's polling stations. And the gorgeous cheerleaders will keep their end up. They will be issuing VIP invitations to the International Cheerleading Tournament, to be held in April of this year, to all young voters."
Posters for the event noted that voters needed to pick up an absentee ballot and vote at one of the polling stations in the municipal district in order to receive their small pie or cheerleading ticket.
Voting by absentee ballots has grown incrementally in recent elections, and was widely used in December 2nd State Duma elections to raise voter turnout. The widest number of falsification charges were related to voting with this method, with some voters claiming they were forced to fill out their ballot in the presence of employers or officials. In other instances, students and factory workers were bussed between polling stations and issued absentee ballots to vote several times.
Read a detailed account of pressure on voters in Nizhny Novgorod from the New York Times.