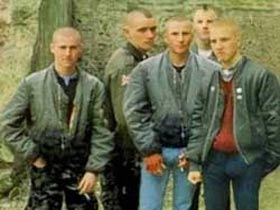 Ethnically motivated hate crimes have set off a spark of worry in some of Moscow's minority communities. In the past week alone, there have been six fatal attacks on dark-skinned peoples in Russia's capital.
The most recent victims, two men of Kyrgyz and Azeri background, were stabbed to death in separate instances on Tuesday night. The crimes are considered ethnically motivated, as nothing was stolen from the victims' bodies.
According to the Itar-Tass news agency, many community leaders feel that authorities are turning a blind eye to the wave of killings and assaults. At a meeting with Moscow police, ethnic leaders complained that most attacks against dark-skinned people were simply considered hooliganism, and that the police had failed in their promises of helping ethnic minorities. They added that the judicial system dealt with hate crimes too lightly.
Citizens of the former Soviet Republics living in Russia, as well as Russian nationals from the North Caucasus region have noted a rising incidence of assaults from ultra-nationalists and skinheads.
According to the Moscow Times, twenty-three people have been killed and more than fifty injured in ethnically-motivated attacks around the country since the start of the year. Fourteen of those murders took place in Moscow.
Vladimir Pronin, Moscow's police chief, spoke with the Komsomolskaya Pravda newspaper on what he felt were the reasons for the rising crime rate:
"You may also add the collapse of the system of vocational training. We've lost our working class youth. There you have it. Teenagers have nothing to busy themselves with. No positive ideology has been offered. There is no way for them to let off aggression, and there are newcomers and guest workers all around. The result is clear. Mandatory high-school education has been canceled in fact. Few parents care if their teenage son finishes high school or not…"
Itar-Tass noted that other people of color, including immigrants and expats from East Asia and Africa, were also being threatened by skinheads. Anonymous sources within major international corporations have revealed to the Izvestiya newspaper that their firms have unofficial policies wherein Asian and African specialists are not hired for the Russia office. Simply put, their safety cannot be guaranteed.