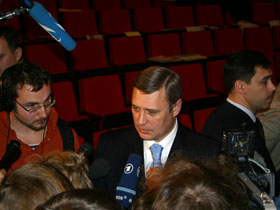 Moscow, January 27th:
Russia's Central Electoral Commission has refused to register Mikhail Kasyanov as a candidate for upcoming March 2nd presidential elections. Kasyanov, a former Prime-Minister and head of the People's Democratic Union (NDS), released a statement renouncing the decision, and called on supporters to boycott the election.
"I am calling on my supporters and all Russian citizens to have no part in this farce. Elections without choice are a mockery of the people," the statement reads.
The Commission deemed that over 13% of signatures in support of Kasyanov's candidacy were invalid. By law, each candidate must gather two million names, and no more than 5% of those can be incorrect. Kasyanov's supporters maintain the accuracy of their lists, and have filed complaints to the CEC.
Kasyanov was the last remaining contender from the liberal democratic opposition. Other candidates, including Garry Kasparov, Vladimir Bukovsky, and Boris Nemtsov, have either been forced out, or have bowed out of the race. After Kasyanov's denial, only four candidates will appear on the ballot. Dmitri Medvedev, who has received a nod from current President Vladimir Putin, is widely favored as the winner.
Despite the surface appearance, Mikhail Kasyanov considers the Commission's decision a victory for the democratic opposition. "Those that think we have lost are mistaken. Against all odds, we have won, because we have retained honesty and dignity, having done everything that depended on us in this situation." The NDS leader also believes that President Vladimir Putin personally made the decision to cancel his registration.
Garry Kasparov, the leader of the United Civil Front, commented on the predictability of such an outcome:
"In the existing political situation, nothing else could have happened. The procedure of virtual "succession" excludes any political opposition, and that's why Mikhail Kasyanov wasn't registered. The quality of the gathered signatures had no significance for the CEC."
As of today, only four candidates remain: Vladimir Zhirinovsky of the nationalist Liberal Democratic Party, Communist leader Gennady Zyuganov, First Deputy Prime-Minister Dmitri Medvedev, and Democratic Party leader Andrei Bogdanov. Earlier this week, Zyuganov told reporters that he may quit the race if Medvedev refuses to participate in televised debates.