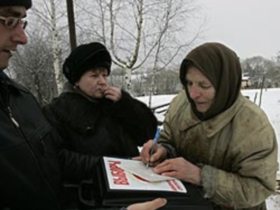 In the Russian Republic of Ingushetia, militsiya officers are walking door to door, speaking to citizens who participated in a recent protest action titled "I didn't vote!" As ingushetiya.ru reports, the militsiya officers are demanding that people renounce their claims that they did not vote in recent State Duma elections. The majority of residents are sending the policemen away.
Earlier this month, more than half of registered voters in the republic filled out a statement claiming that they did not participate in recent parliamentary elections. This directly contradicts Russian electoral officials, who claim that 98% of voters came out to polling stations in December.
Meanwhile, several political parties have released a joint statement, asserting that their monitors saw no violations during ballot-taking.
Opposition groups, on the other hand, have brought forth anecdotal and statistical evidence that results of the election were manipulated.