All Posts Tagged With: "Sergei Kovalev"

A group of prominent Russian human rights advocates have penned a letter to Dmitri Medvedev, asking him to take immediate action to put an end to the widespread use of torture in Russia's detention facilities.
Feb 23, 2011 |
Continued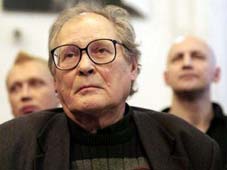 Sergey Kovalev, the chairman of the Memorial Human Rights Society, argues in an open letter that political violence has become a common occurrence in Russia, and that authorities are largely to blame. Exclusive translation by theotherrussia.org.
Apr 5, 2009 |
Continued

In an open letter, some of Russia's most prominent human rights defenders have called on the international community to stand up to Russia's "aggression," and to go as far as removing the country from the Group of Eight. Translation by theotherrussia.org.
Aug 12, 2008 |
Continued