Archive for Mig Greengard
Editor of theotherrussia.org.

Other Russia press release response to the July 28 US House Committee on Foreign Affairs hearing on US-Russia relations and the testimony of Obama administration officials.
Aug 14, 2009 |
Continued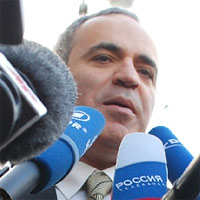 Garry Kasparov speaks with Theotherrussia.org about participating in US President Barack Obama's meeting with Russian opposition figures.
Jul 8, 2009 |
Continued

United Civil Front leader Garry Kasparov spoke about the role of Russia's democratic opposition at a conference this weekend in Moscow and supplemented his remarks for us at The Other Russia.
Feb 8, 2009 |
Continued

The Moscow Times reports that pro-Kremlin agents worked in opposition groups across Russia to provide the presidential administration with information on opposition activists.
Feb 5, 2009 |
Continued

It may come a few years too late, but the mainstream western media is finally acknowledging what their elected leaders still prefer to ignore: Vladimir Putin is no more a democratically elected leader than Robert Mugabe or Mahmoud Ahmadinejad.
Jan 30, 2009 |
Continued

A revealing Freudian slip at the Kremlin's English-language news site accuses "Georgians" of airline baggage theft.
Nov 30, 2008 |
Continued

The organization Human Rights Watch has released its 2008 World Report and an essay by executive director Kenneth Roth entitled "Despots Masquerading as Democrats" in which Putin's Russia plays a starring role.
Feb 4, 2008 |
Continued

Reuters reports on comments by various US presidential candidates on Vladimir Putin. Most sound ready to stand up for democracy, but will they be as tough once in office?
Jan 8, 2008 |
Continued

Time magazine may have swooned for Putin's "steely gaze" but David Asman and the other sharp folks over at FoxBusiness know to look at the record instead of Putin's eyes. They honored Garry Kasparov, calling him "The Real 'Man of the Year."
Jan 8, 2008 |
Continued

Garry Kasparov's latest editorial in the Wall Street Journal assaults the continued acquiescence of the West to Vladimir Putin's demolition of Russian democracy. From Condoleezza Rice to Time magazine, human rights are clearly of secondary importance.
Dec 23, 2007 |
Continued