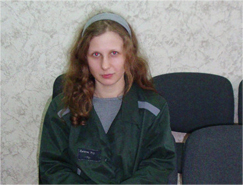 Jailed Pussy Riot member Maria Alyokhina has written a column for the New Times about the harsh conditions in her penal colony, including how administrators constantly threaten inmates with the possibility of being deprived of the opportunity for parole.
"They ask you: do you want parole? Then you just adapt," Alyokhina said in her article. "It's not hard to get out on parole. You need to sew 12 hours a day for a thousand rubles maximum per month; you need to refrain from writing complaints; you need to make substitutions, snitch on others, tread upon the last vestiges of your principles; you need to shut up and bear it; you need to get used to it."
According to the Pussy Riot member, the entire "corrective" system is built on the basis of forcing prisoners to acclimate to arbitrary conditions. All the inmates are forced to memorize internal regulations, and violations of these regulations result in punishment that forms the basis for turning down an inmate's request for parole. "If you fall asleep while doing your corrective work, that's a violation; a poorly sewn-on tag is a violation; having a loose button on your coat during lineup is a violation," Alyokhina explained.
Alyokhina also described her living conditions. She particularly pointed out the inaccessibility of hot water and how different her hands look after months of washing them with cold water. As a vegetarian, she is also having an adverse physical reaction to the prison's "meat-only menu."
On November 29, Alyokhina received an official reprimand for oversleeping. Less than a week earlier, she had been moved to a solitary cell at her own request because of conflicts with other prisoners. Pyotr Verzilov, husband of fellow jailed Pussy Riot member Nadezhda Tolokonnikova, said that Alyokhina's lawyer is fighting the reprimand in court. The federal prison service said that it could be removed for "a positive attitude towards work." As it stands now, the reprimand could prevent Alyokhina from receiving parole in the future, which she and Tolokonnikova are subject to review for in March 2013. The two are currently serving two-year sentences for "inciting religious hatred" in what has been globally decried as a politically-motivated case.