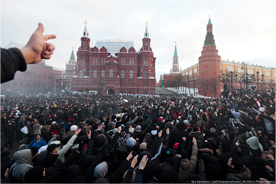 Lawyers of four opposition activists convicted of inciting riots in Moscow are appealing to the European Court of Human Rights in Strasbourg in a last-ditch attempt to clear their names, ITAR-TASS reports.
Igor Berezyuk, Ruslan Khubaev, and Kirill Unchuk, all members of the unregistered Other Russia party, have been sentenced to 5 and a half, 4, and 3 years in prison, respectively.
As lawyer Dmitri Agranovsky explained, the appeal refers to article 6 of the European Convention on Human Rights, which guarantees the right to a fair trial. He and his fellow lawyers believe that the case against the activists was politically motivated and that their clients were not afforded this right.
They have also submitted a supervisory complaint about Berezyuk's sentence in particular to the presidium of the Moscow City Court.
The three activists were sentenced on August 8, 2012, for inciting riots on Moscow's Manezh Square in December 2010, when thousands of Russian citizens protested in a violent display of nationalistic fervor in connection with the killing of an ethnically Russian soccer fan by a non-Russian assailant. Anger was also directed at the police for supposedly releasing the suspect on a bribe.
The appeal comes at a time of increased international attention towards political persecution in Russia, largely due to the media sensation of the Pussy Riot trial this past summer. More complaints are sent to the Strasbourg Court from Russia than from any other country within the Council of Europe. Of those cases tried, the Russian authorities are found liable almost every time.