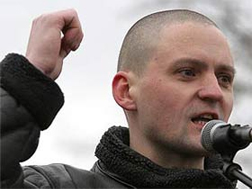 A Moscow court ruled Wednesday that the arrest of prominent Russian oppositionist and Left Front leader Sergei Udaltsov during a massive anti-governmental march was illegal, Kasparov.ru reports.
According to Udaltsov, the court agreed with his argument that his detention was unlawful because it happened before the time organizers told the city that the march would end.
"You could say that I'm satisfied with the court's verdict," Udaltsov told Kasparov.ru. "It's good that our judicial system doesn't always function on what it hears from the higher-ups."
The decision was a small victory for an opposition that has been increasingly beleaguered by new regulations and other forms of persecution since President Vladimir Putin began his third term this past May.
Udaltsov now intends to appeal for "sizeable" monetary compensation for the moral damage resulting from his detention. He also plans to sue the police officers involved.
The march Udaltsov was detained in was the opposition's third so-called March of Millions on September 15, in which organizeer estimated 100 thousand people took part. Police reports, which historically underestimate anti-governmental protest participation, put that number at 14 thousand. Udaltsov's arrest came after he called on people not to leave at the end of the march and instead to create a long-term "Maidan" protest in the style of the Orange Revolution in Ukraine.