Garry Kasparov's trial for trumped-up charges by the Russian police is taking place at 11:30 am tomorrow in Moscow. The police reports, reproduced below with translation, have been fabricated to stay within the three hour "arrest-to-testimony" window required by Russian law. While numerous time-stamped photographs and videos show his arrest taking place at 3:15 pm, the police report puts it at after 4:30 pm – a blatant lie.
The reports also say that Kasparov was yelling slogans such as "Russia without Putin" and that they warned him to stop before he was arrested, as they are legally required to do – this is patently false, as is clear from video footage of the arrest.
We have also included a timeline of time-stamped media reports, all of which were published before the police reports claim the arrest occurred.
Garry Kasparov's statement to police, indicating the real time of his arrest – 3:15 pm.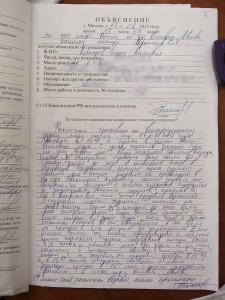 You can see "15:15," the real arrest time, written towards the bottom. Note that Kasparov's statement was dictated to an officer at the moment while the officers' statements are pre-prepared, typed and photocopied.
Statement by Police Captain Pavel Domashev showing false 4:30 pm arrest time.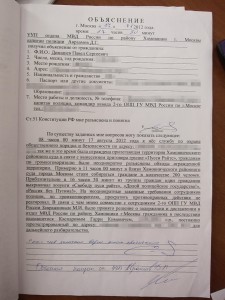 STATEMENT

City of Moscow, August 17, 2012
Time: 5:30 pm

Police Precinct of the Russian Internal Ministry for the Khamovniki Region, City of Moscow, Police Captain D.G. Avraamov received a statement from citizen:

1. Name: Pavel Sergeevich Domashev
2. Date of birth: *****
3. Place of birth: ******
4. Address: *******
5. Nationality and citizenship: *****
6. Passport or other document: *******
Education: ******
7. Place of work and rank, telephone number: ********** Police Captain, Commander of the 2nd Operational Regiment of the Main Branch of the Russian Internal Ministry for the City of Moscow, tel. *******

Article 51 of the Constitution of the Russian Federation has been explained to me and is understood

(signature)

Based on the questions that have been asked of me, I can say the following:

On August 17, 2012, at 8:00 am, I began work guarding public order and safety at the following address: 7th Rostovsky Pereulok, Building 11, Moscow, and also at that time, the neighboring territory of the Khamovnichesky Regional Court was cordoned off in connection with the verdict reading for the group Pussy Riot, and citizens were repeatedly explained over a loudspeaker what detours there were for the surrounding area. At about 11:00 am, 200 citizens began to gather near the Khamovnichesky Regional Court of the City of Moscow. Close to 4:30 pm, one citizen from the group of citizens yelled slogans "Freedom to Pussy Riot." "Down with the police state!" "Russia without Putin" The citizen did not react to the repeated, lawful demands of police officers over the loudspeaker to stop the unlawful actions. In connection with which I, together with Officer M.I. Zavrazhnov, made the decision to detain the citizen and place him in holding at a branch of the Internal Ministry of Russia for the Khamovniki region of the city of Moscow, who turned out to be Garry Kimovich Kasparov, born ******, registered at the following address: ****** for further investigation.
Statement by Police Captain Mikhail Zavrazhnov showing false 4:30 pm arrest time. Note that his statement is literally identical to his co-captain's, hence no extra translation is provided: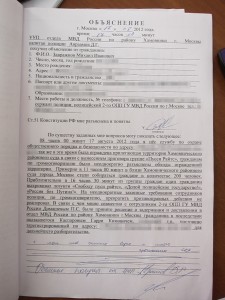 Photographs showing Kasparov's arrest and the time: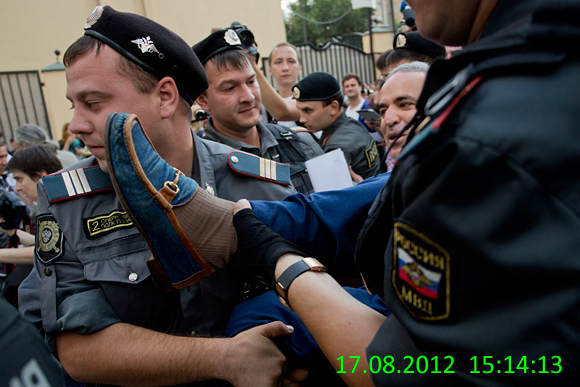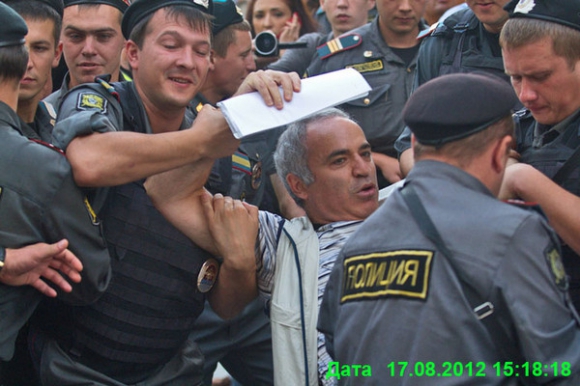 TIMELINE OF ARREST THROUGH MEDIA REPORTS
Photo by Olaf Koens of Kasparov in police van posted to Twitter – 15:27 17 Aug 2012
https://twitter.com/obk/status/236423940975779840/photo/1
Interfax.ru Live Update Page – 15:27 17 Aug 2012
"15:27 – У суда задержан Гарри Каспаров" ("Garry Kasparov has been arrested at the courthouse)
http://www.interfax.ru/society/txt.asp?id=260980&sw=%CA%E0%F1%EF%E0%F0%EE%E2&bd=24&bm=7&by=2012&ed=24&em=8&ey=2012&secid=0&mp=2&p=1
AFP Live Report Page – 15:43 17 Aug 2012
http://www.thejakartaglobe.com/afp/pussy-riot-verdict-live-report/538957
Russia Today Live Page (English) – 15:53 17 Aug 2012
http://rt.com/news/pussy-riot-verdict-updates-907/
Given the disturbing events of the past few days, many people have been asking what they can do to help. Garry Kasparov's non-profit organization, the Foundation for Democracy in Russia, supports legal defense for opposition activists. You can donate to the foundation by clicking here.