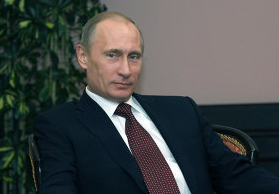 Russian President Vladimir Putin signed a law on Monday to create a list of web site domains with "unlawful content," which many fear constitutes a move towards censoring the Russian internet, RIA Novosti reports.
Referring to Rossiyskaya Gazeta, the news service said that the law will go into effect immediately on July 30. Earlier reports put that date at November 1.
Officially, the law creates a blacklist of web sites with content that the government deems to be dangerous for children. This refers first of all to child pornography, information on how to prepare or use narcotics, and information on ways to commit suicide or calls to do so.
Sites seen as containing this content will be banned without having to be subject to a court process.
Sites with other unlawful content, such as "war propaganda" and "inciting interethnic hatred" can also be blacklisted if a court deems necessary.
Roskomnadzor, Russia's federal media and technology supervisory body, will be responsible for monitoring compliance with the new law, and a special non-commercial organization will be in charge of tracking the internet for offending websites. The organization will then notify Roskomnadzor about a certain site, and Roskomnadzor will then notify the domain owner that their site contains illegal content. If that content isn't deleted within 24 hours, the hosting company will be required to take it down. If it refuses, the site will be entered into the government's blacklist.
Critics of the new law fear that its actual purpose is to begin to censor the Russian internet.
Wikipedia's Russian page went dark for all of July 10 to protest the measure. Other internet companies that have spoken out against the law include Yandex and the Russian branches of Google and LiveJournal.
Members of the Presidential Council for the Development of Civil Society and Human Rights have also called for the law to be struck down.