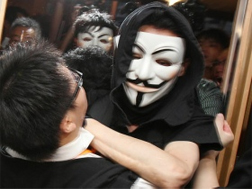 Russians will be banned from wearing masks during protests under a new proposed law on demonstrations currently being considered by the State Duma, Interfax reports.
The question was raised during a discussion of the legislation when A Just Russia Deputy Dmitri Gudkov asked whether protesters would be allowed to wear medical face masks.
In response, United Russia Deputy Vladimir Pligin of the State Duma Committee on Constitutional Legislation responded that nothing that covered a protester's face would be permitted.
Numerous opposition activists have worn masks to protests out of fear of facing political persecution.
As Gudkov pointed out on his blog, the Committee on Constitutional Legislation has rejected the majority of amendments proposed by oppositionists.
"The law is a hellish hell. Welcome to North Korea. What falls under its scope?" Gennady wrote. "Here is a quote from bill author A. Sidyakin (United Russia): 'Weddings fall under the law if they turn into political performances that result in a violation of public order.'"
In an attempt to point out the absurdity of the new legislation, Gudkov asked his fellow deputies whether he would be required to submit notification to the Moscow mayor's office about his own upcoming wedding. This was brushed off by the majority of deputies, who said that wedding organizers wouldn't face any possible fines under the new legislation even if the wedding was politicized. How they reconciled this with Sidyakin's previous assertion was unclear.
In addition to banning masks, the legislation, proposed by United Russia deputies, would raise the fine for violating the procedures for holding a protest to 1 million rubles (about $34,000). It passed the first of three required readings in the State Duma on May 22, largely thanks to United Russia's 238-seat majority in the 450-seat body. The vote was 236 to 207, with one abstention.