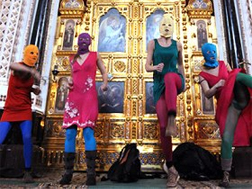 A prayer session to support arrested members of a Russian punk group was thwarted when the church refused to let them in, Gazeta.ru reports.
Nikolai Polozov, lawyer for Nadezhda Tolokonnikova and Maria Alekhina of the feminist punk group Pussy Riot, said that when a group arrived at Moscow's Cathedral of Christ the Savior they found it unexpectedly locked with a sign saying the cathedral was closed for "technical reasons." OMON riot police were stationed nearby.
A number of provocateurs soon arrived at the scene and began to verbally abuse the group and splashed water onto one of them. When the latter asked the police why they weren't doing anything to respond to the abuse, the officer proposed that he get into a police bus to fill out a complaint. When the supporter declined, he was arrested.
"He's being charged with an administrative offense – failing to obey police orders; and the one who poured the water onto him is now a witness," Polozov explained.
At least three people were arrested during the incident.
The prayer session had been one of two planned actions in support of the two arrested Pussy Riot members in Moscow on Thursday, the second taking place outside of the Petrovka Police Station.
The two women were arrested on March 5 after staging an unannounced protest concert inside the Cathedral of Christ the Savior on February 21. The concert was broken up after only one song, titled "Mother of God, Banish Putin."
Despite the fact that a spokesperson for the Russian Orthodox Church explicitly stated that he saw "no reason to keep these women detained," and that the main thing was to make sure "everything happened according to the law," Tolokonnikova was sentenced to 50 days in jail; Alekhina's sentence is still to be determined.
According to Polozov, the arrests were made in part with participation by the Center for Extremism Prevention (Center "E"), a law enforcement body notorious for abusing oppositionists and other activists.