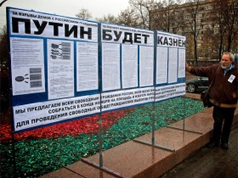 More than a dozen opposition activists were detained at two separate events in Moscow on Wednesday, none of whom were given logical explanations for their arrests, Kasparov.ru reports.
On Novopushkinsky Square, two activists holding an ongoing anti-governmental picket dubbed "Putin Will Be Executed" were arrested for supposedly "violating public order by holding either a meeting, rally, demonstration, march or picket," an offense punishable by a fine from 500 to 2000 rubles (16 to 65 USD).
However, according to detained oppositionist Stanislav Posdnyakov, the pair had documents showing that the city had granted them permission to hold a picket at that time and place with up to ten participants. They plan to file suit against the officers involved.
Police had not detained any members of a previous picket under the same campaign a day before. A third action is planned for Thursday.
Another eleven activists were arrested the same day in front of Moscow's Olympic stadium, where the band DDT was set to play a concert later in the evening.
According to Solidarity co-leader Nadezhda Mityushkina, the arrestees had been passing out leaflets protesting the unfairness of upcoming parliamentary elections on December 4 and instructing voters on how to ruin their ballots in protest. The goal of the campaign, which the activists are calling "Vote Against Them All," is to have seven percent of voters cast their ballots against all candidates, thus passing the threshold needed by political parties to hold seats in the State Duma.
Mityushkina said that the arresting officers would not explain on what basis the activists were being detained. She personally was released after warning that she planned to file a complaint against them.
Among the activists who were not so lucky, all hailing from Solidarity, were Elena Bukvareva, Mark Galperin, Dmitry Monakhov, Artem Bystrov, Galina Shashanova and others. The group was brought to a police station and also charged with supposedly violating public order.
The arrests come on the heels of a new set of poll numbers for Prime Minister Vladimir Putin's United Russia party showing a nine-point drop in support in just one week, from 60 percent to 51 percent. In some regions, such as Moscow and St. Petersburg, their numbers are even lower (29 and 31 percent, respectively). Among other questionable measures being taken to boost support for the reigning party is a racy television commercial calling for young people to "do it together" in voting booths on December 4.