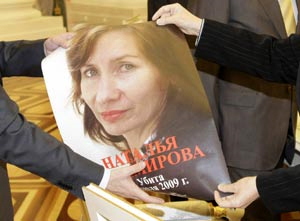 Russia's official investigation of the murder of human rights activist Natalya Estemirova is being carried out in a dishonest fashion, according to Presidential Council on the Development of Civil Society and Human Rights member Svetlana Gannushkina, RIA Novosti reports.
Gannushkina said that Russian law enforcement agencies are no longer considering the possibility that federal security forces had a hand in Estemirova's killing.
"We have the feeling that investigators have stopped [investigating] the version that was originally being looked into, about the connection between high-ranking law enforcement representatives and the Chechen government and the murder, and the connection with Natasha's professional work – that she exposed [Abusubyan] Albekov's public [and extrajudicial – ed.] execution," she explained.
The human rights activist noted that the version currently being considered to be the most likely scenario – that Chechen militant Alkhazur Bashaev is responsible for the murder – "doesn't stand up to the slightest scrutiny."
In addition, Gannushkina noted that an entire year has passed since Estemirova's murder case has been last investigated.
Human rights advocates have long criticized the investigation of Estemirova's murder in July 2009. Russia's federal Investigative Committee has refuted their claims. On July 6, the activist's colleagues presented Russian President Dmitri Medvedev with a report criticizing the investigation, and on July 14 promised to make the document public.
Natalya Estemirova, a member of the Chechen branch of the Memorial human rights center and expert counsel on Chechnya to Russia's human rights ombudsmen, was kidnapped on the morning of July 15 near her home in Grozny. Her body, riddled with gunshot wounds to the chest and head, was discovered later that same day in an Ingush forest.
Colleagues and friends of the activist blame the Chechen government and President Ramzan Kadyrov personally for her death.
In 2009, Kadyrov sued Memorial head Oleg Orlov for slander in a civil case after the latter claimed the president was responsible for the killing. The court found him guilty in October 2009. However, a criminal case on the same charges filed by Kadyrov in July 2010 was turned down by a court just last month.