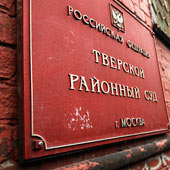 Update: This article has been corrected from earlier versions. Please see statement below. We apologize for any misunderstanding.

Moscow's Tverskoy Court has sanctioned a warrant to arrest Hermitage Capital Management executive Ivan Cherkasov in absentia, Gazeta.ru reports.
Interior Ministry investigator Oleg Silchenko had announced on May 3 that he was seeking the arrest of Cherkasov, a colleague of deceased lawyer Sergei Magnitsky who has lived in London since 2006, on the basis that the Hermitage Capital executive has failed to pay 2 billion rubles in taxes.
Cherkasov's lawyers asked the judge to delay the court hearing for several days to give them time to study court materials and prepare their defense with Cherkasov himself. However, as lawyer Aleksandr Antipov told the BBC's Russian service, this request was denied with no explanation as to why.
Antipov added that they would appeal the arrest in Moscow City Court, since, in his words, today's decision by the Tverskoy Court has demonstrated the inobjective nature and dependence on investigators of the courts.
Hermitage Capital has issued a press release decrying the decision:
Late this evening, Judge Kovalevskaya of Moscow's Tverskoy Court approved a request by Internal Affairs investigator Silchenko for the arrest in absentia of Ivan Cherkasov, a colleague of Sergei Magnitsky and partner of Hermitage Capital. Cherkasov's lawyers consider the decision by Judge Kovalevskaya to be without basis, unlawful, and unconstitutional, and will appeal it in Russian courts as well as in the European Court of Human Rights.
The press release can be read in its entirety in Russian here.
Silchenko was the lead investigator in the case against Magnitsky for trumped-up charges of tax evasion, and his subsequent promotion following the lawyer's scandalous death in a Moscow detention facility has drawn scathing criticism from human rights advocates and other supporters of Magnitsky, who say that Silchenko's actions lead to the lawyer's death. While the presidentially-ordered investigation is ongoing, nobody yet has been charged. An independent commission announced last week that Magnitsky's arrest had been illegal.
According to Gazeta.ru, lawyers for Hermitage Capital sent a request to the Russian Internal Ministry on May 3 asking for Silchenko to be removed from the investigation of Magnitsky's death. According to the lawyers, Silchenko has a possible personal stake in the outcome of the case. However, the request was turned down.
Earlier, Hermitage Capital CEO William Browder told The Independent that he believed the arrest warrant for Cherkasov to be retaliation for a video expose of the tax fraud case uncovered by Magnitsky that they posted on YouTube in mid-April:
"Clearly our expose has caused significant upset within the ranks of this criminal syndicate to the extent that we've shocked them into retaliation," he said. "This is an escalation in the attack on us. The next logical step would be for the same corrupt officers to misuse the Interpol system or the extradition process in an attempt to further deflect attention away from the government corruption which we exposed. It shows that no-one is in control of Russia's judicial system."
The Independent also quoted a statement by Cherkasov denying the allegations:
"The highest levels of law enforcement in Russia have been abusing their offices for political, criminal and retaliatory purposes since this whole saga began," he said. "It is being done shamelessly, and the whole world watches on in amazement. Either the Russian President and Prime Minister are powerless to fight officials who are stealing enormous amounts of state money, or they are direct beneficiaries. Either way, it is a terrible condemnation of what is happening in my country."
Correction: This article previously quoted erronious Russian reports that the Russian Internal Ministry issued an "international arrest warrant" for Hermitage Capital CEO William Browder on May 4. The Russian reports, put out by ITAR-TASS and cited by numerous other Russian news agencies, mistook a quote by Internal Ministry investigator Oleg Silchenko about a request to Interpol by the Internal Ministry to have Browder placed on an international wanted list in connection with tax evasion charges for a new development, while the request was actually issued back in 2009. See this article by Reuters for details on the 2009 request. There are no actual new developments involving Browder. We apologize for any misunderstanding the original article may have caused.