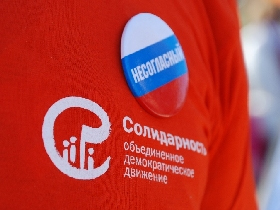 Russian opposition leaders are calling for increased street protests to demonstrate the desire of citizens to change the country's ruling regime. This proposal was among those discussed on April 23 at an impromptu congress of the opposition movement Solidarity in Moscow, Kasparov.ru reports.
According to Solidarity representative Denis Bilunov, members of the movement used the congress to implement changes to the makeup of the organization and to pass resolutions on certain policies.
In particular, the movement decided to officially support a campaign begun by human rights and civil activists dubbed "For Russia Without United Russia," referring to Prime Minister Vladimir Putin's political party. Decisions were also made to support free preschool education and oppose the import of nuclear waste onto Russian territory.
In his address, Solidarity co-leader Boris Nemtsov said that protests should become the number one aim of the organization. Since the most successful large-scale events are held in St. Petersburg and Moscow under the Strategy 31 campaign in defense of free assembly, Solidarity absolutely must participate in these demonstrations, he said.
Fellow co-leader Garry Kasparov warned the congress that Russia wasn't going to see anything like Ukraine's Orange Revolution, which was brought on by reports of fraud in that country's November 2004 presidential election. Instead, he argued that oppositionists should figure on a scenario like the ones currently rocking the Arab world. "10-20-30-50 thousand people in the streets of Moscow – that's a solution to the problem," Kasparov said, adding that the organization needs to show that liberal values have never been part of the basis of Russian state policy.
"The established regime is never going to give up power as a result of elections," he insisted.
Solidarity was established at the end of 2008 as a coalition of Russian democratic forces that opposed the ruling regime. From the very beginning, Solidarity assigned itself the task of uniting disparate groups of Russian democrats to form a distinct alternative for the future development of Russia and to change the political regime in the country.