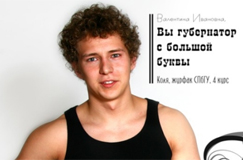 Eleven male journalism students from St. Petersburg State University have created a spoof calendar for Mayor Valentina Matviyenko, coupling sometimes shirtless photos of themselves with questions about controversial problems in the city.
"The calendar is made up of 11 male students and Elmo – the famous puppet from the children's program Sesame Street – photographed to represent the student who came up with this idea," said Kommersant reporter Konstantin Andrianov. "In the captions, the creative students played with problematic topics in the city or tried to make fun of the governor."
"You have a good roof, but ours leaks," says first year journalism student Gosha on the page for February. "I can give you my laser for the battle against icicles," says another, referring to the plight of falling icicles that kill multiple pedestrians every winter.
As "Elmo" told Kommersant, the students originally wanted to print hard copies of the calendar and deliver them to Smolny – St. Petersburg's city hall – but "not a single print shop wanted to do this." Instead, they posted it on LiveJournal.
SPbGU Journalism Department Dean Anatoly Puyu confirmed that the students in the calendar are indeed from the department. So far no reaction has been heard from either Smolny or Matviyenko herself, he said.
The Petersburg students follow in the footsteps of Moscow State University journalism students who caused a ruckus last November after shooting a provocative calendar for Prime Minister Vladimir Putin's birthday. The next day, different students from the same department came out with an alternative calendar. As opposed to the original, these girls were fully clothed and posed questions such as "who killed Anna Politkovskaya?" and "how does inflation affect bribes?"
The newest calendar was timed to come out on April 1st, and while clearly driven by humor, the captions touch on seriously questionable actions by the governor. One page, which asks "can I play on the Aurora, too?" refers to a recent scandal in which the governor was caught partying aboard a decommissioned naval cruiser that had been turned into a museum. The museum director says he has no idea who sanctioned the event and state prosecutors are investigating the incident. Another that says "I, a homeless student, am prepared to shovel snow" refers to controversial statements by the governor this past winter that students and homeless people should be recruited to make up for the lack of municipal workers to clear the city's sidewalks.