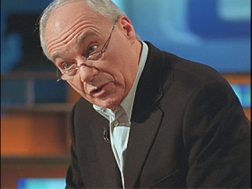 For many years, members of the political opposition have been effectively banned from appearing on Russia's state-controlled television. These channels have blacklisted prominent oppositionists like Garry Kasparov, Boris Nemtsov, Mikhail Kasyanov, and Eduard Limonov, despite complaints from journalists that the censorship is stifling their programming. As well-known television host Vladimir Posner recently explained, "I can't invite them because Channel One tells me: 'No. These are the rules of the game…'"
Acclaimed television host Leonid Parfyonov recently gave a highly critical speech of Russian media censorship at an awards ceremony back in November.
"Journalistic topics, and with them all of life, was definitively divided into what was allowed on TV and what wasn't allowed on TV," he said. "Each politically significant broadcast is used to guess the government's goals and problems, its mood, attitude, its friends and enemies."
While the speech was broadcast on national television, parts of it were cut, with the unedited version only available online.
As the main source of news for the majority of Russians, state censorship of television has long prevented opposition members from reaching as wide an audience as the ruling party, United Russia, is able to enjoy. Without that kind of exposure, their ability to convey messages to the public is severely limited.
So it was an interesting twist to hear Russian Prime Minister Vladimir Putin say he has no problem with oppositionists appearing on television.
In a meeting with Putin on Thursday, Vladimir Posner asked how the prime minister felt about showing oppositionists on Channel One. In response, Putin said he was not against it and was fine with the fact that "oppositionists lie when they're on the media, in particular on certain radio channels." As he put it, "somebody has to lie, because somebody wants to hear those lies."
Posner specified that, when posing this question, he "had in mind such people as Boris Nemtsov or Garry Kasparov, and not Vladimir Zhirinovsky or Gennady Zyuganov." Zhirinovsky and Zyuganov head the Liberal Democratic and Communist parties, respectively, and while they are technically opposition parties, they generally toe the Kremlin line.
"If Putin publicly answers my question by saying that he is not opposed to the opposition [appearing on television], it gives me the opportunity to tell the management of Channel One, to Konstantin Ernst's face, that I would like to invite some specific people onto the air," said Posner. He stressed that he would now be able to "repel any objections," since he now has the proper "sanctions from the authorities."
Ideally, doing this would not require spoken or written approval from the highest levels of government in the country, but "that's not possible in Russia today," Posner said.
He lamented that Putin's rise to power has negatively affected his show Vremena.
"It was real, alive; we discussed relevant issues…but when Putin began to introduce, as they call it, the power vertical, it affected a lot, including the mass media. It gradually became harder and harder, first of all, to touch upon certain topics, and secondly, to say certain things, and I've ceased to enjoy the program," said the host.
Speaking on Ekho Moskvy radio on Friday, Posner said he'd like to invite some opposition figures onto his show as soon as possible and that he's already discussed this with Channel One management.
"I'm going to try right after this Sunday's broadcast to have one person or another from the opposition come onto the show," he said.