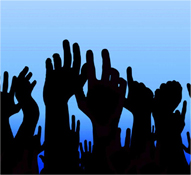 The Economist magazine has released it's 2010 Democracy Index. Out of 167 countries, Russia is ranked 107th in terms of the quality of democracy in the country in 2010, measured up through November. Countries were further divided into four categories: "full democracies," "flawed democracies," "hybrid regimes," and "authoritarian regimes." Russia, the magazine concludes, constitutes a hybrid regime. But whereas 33 total countries are counted as hybrid regimes, Russia is only six spots away from being considered an authoritarian one.
The quality of demoracy in these countries was determined by a composite of five scores: electoral process and pluralism, functioning of government, political participation, political culture, and civil liberties. From 0 to 10, with 10 being the most democratic, Russia received the following scores:
Electoral process and pluralism: 5.25
Functioning of government: 3.21
Political participation: 5.00
Political culture: 3.13
Civil liberties: 4.71
Overall score: 4.26
The report also noted that Russia was one of 36 countries in which scores for media freedom fell between 2008 and 2010. Its overall score fell slightly from 2008, when it was stood at 4.48 and ranked in 107th place.
Countries with an overall score of between 4 and 6 were classified as hybrid regimes, and a score of 4 or lower indicated an authoritarian regime. Other hybrid regimes with scores similar to Russia's were Pakistan (4.55), Sierra Leone (4.51), Nepal (4.24), Armenia (4.09), and Iraq (4.00).
The Economist elaborated on its reasons for scoring Russia's quality of democracy as it did:
In Russia, the one positive development (the fact that the constitution was respected and that Vladimir Putin stepped down from the presidency in 2008) was offset by a number of negative developments. Although the formal trappings of democracy remain in place, today's Russia has been called a "managed" (or "stage managed") democracy. All the main decisions are made by a small group of insiders. The Duma is now little more than a rubber-stamp parliament; regional governors are appointed directly; the main media are state-controlled; civil society organisations have come under pressure; and the state has increased its hold over the economy. Even though Dmitry Medvedev, Mr Putin's successor, has adopted a softer style, and has instituted some liberalising changes around the edges of the system, there have been no fundamental reforms during his presidency so far.

Most Russians appear unperturbed by the trend towards authoritarianism. During the presidency of Boris Yeltsin, many Russians came to associate the term democracy with chaos, and "capitalism" was synonymous with rigged privatisations, the rise of the oligarchs and widespread poverty. For now, however, the Russian middle class appears content with growing incomes and increased personal freedom, including opportunities to travel.