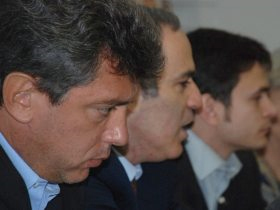 A radical Russian nationalist group called the Movement Against Illegal Immigration has reportedly called all ethnic Russian men to arms, warned Russian women and children to stay home, and threatened to stage a showdown with Caucasian groups in Moscow on Wednesday.
The threats follow a weekend of ethnically-targeted violence in Moscow and St. Petersburg, after a young Russian football fan was allegedly killed by men from the North Caucasus. Police had earlier released the suspected killers, leading to speculation that they had paid off the police.
Prominent Russian opposition leaders Garry Kasparov, Boris Nemtsov, and Ilya Yashin have issued this joint statement in response to the violence.
A Different Path
Statement in regards to the massive turmoil in Moscow
On December 11, 2010, several thousand young people gathered in the center of Moscow to protest the murder of Yegor Sviridov. The demonstration ended with massive clashes with the police, pogroms, and the injuries of dozens of citizens.
The turmoil began after law enforcement agencies released the persons suspected of the murder from detention.
We believe that the reasons for the release of these persons are at the bottom of the corrupt nature of law enforcement agencies.
It was precisely corruption and lawlessness that provoked the turmoil in Moscow.
The corruption of the prosecutor's office and the incompetency of the courts and the police systematically allow murderers and bandits to escape justice. This is leading to the inevitable growth of criminality, including of an ethnic type.
Distrust of the law enforcement system by society inevitably leads to a revolt by its most radical part. The Nazis found an excuse for ethnic pogroms. We condemn nationalistic reprisals and speak out against any instances of xenophobia.
We call upon Russian society to achieve changes in our country through peaceful and nonviolent methods.
Corruption, violence, and revolt – this is a direct path to Russia's demise.
December 12, 2010
Moscow
Garry Kasparov
Boris Nemtsov
Ilya Yashin
Translation by theotherrussia.org.