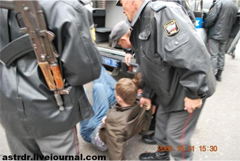 On Friday, the Russian State Duma passed a revised version of a law vetoed earlier by President Dmitri Medvedev that toughens legislation governing protests and demonstrations, Gazeta.ru reports.
Duma deputies and the presidential administration agreed upon a final version of amendments to the federal law "On gatherings, rallies, demonstrations, marches and pickets" on Wednesday. As was expected, a provision that banned individuals or groups from organizing public events for one year if they had been convicted of administrative offenses – a category that includes petty traffic violations – was stripped from the final text.
A letter earlier in the month from the president to state deputies explained that it was precisely this provision that prompted him to veto the amended legislation, despite the fact that both houses of parliament had passed the measure earlier this year without any indication that it would be vetoed.
The amendments were originally introduced in April by deputies from Prime Minister Vladimir Putin's United Russia party, as well as from the Kremlin-loyal A Just Russia and Liberal Democratic Party of Russia. Oppositionists and civil rights spoke out vocally against the proposal.
Aside from the text about administrative offenses, the original legislation also sought to regulate demonstrations by transportation-based organizations such as the Blue Bucket Society, whose members stage protest parades with their cars. The legislation would have required these groups not only to apply with local authorities for official sanction, but also document all vehicles that would be used in the event ahead of time – a measure critics said would virtually cripple these demonstrations.
In his letter, President Medvedev said that he agreed with deputies that transportation-based protests needed to be regulated.
Right after the veto, a source in the State Duma told Gazeta.ru that the basis of revisions to the document would be the removal of the the regulation on administrative offenses. "We'll remove the regulation, and the document will be passed," said the source.
The Federation Council and the president still have to accept the legislation before it is passed into law.