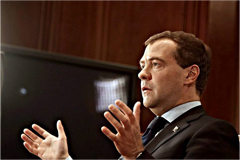 On the eve of a meeting with political party leaders and a week before his annual speech to the upper house of parliament, Russian President Dmitri Medvedev has posted an entry on his video blog admitting that political life in Russia is showing signs of "stagnation."
At the same time, the president insisted that many measures had been taken during his time in office to increase political competition. As the title of his blog entry puts it: "Our democracy is not perfect, we understand this very well. But we're moving forward." Opposition leaders strongly disagree.
As Radio Free Europe/Radio Liberty reports:
In an unusually pointed criticism of the political status quo, Russian President Dmitry Medvedev has warned that the dominance of the country's ruling United Russia party and the lack of political competition is leading the country toward "stagnation."

"It is no secret that since a certain time our political life has been showing symptoms of stagnation, and there is a threat of stability transforming into a factor of stagnation," said Medvedev in a video address posted on his web site on November 23.

The word "stagnation" is often used by Russians to describe the period under former Soviet leader Leonid Brezhnev, which saw the waning of the USSR's superpower status.

The Russian president added that the trend poses a threat not only to the political opposition, but to the ruling United Russia party as well.

"If the opposition doesn't have the slightest chance of winning a fair competition, it degrades and becomes marginalized," he said. "But if the ruling party has no chance of ever losing anywhere, then it 'bronzes over' and eventually degrades too."

As such, he said there is a "need to raise the level of political competition" and pledged to facilitate the conditions for doing so.

Opposition leaders questioned the president's sincerity.

Liberal leader Vladimir Ryzhkov told the Interfax news agency, "Words are not enough — we need action."

Led by current prime minister and former President Vladimir Putin, the United Russia party has held an overwhelming majority in the Russian parliament since its founding in 2001. Critics say that under Putin, the party has left little room for dissent and rendered the political opposition impotent.

The 2010 "Nations in Transit Report" by rights watchdog Freedom House described the quality of Russia's electoral process as "abysmal," and said system is designed to "ensure that there will be no surprises in the 2012 presidential elections."

In a nearly 11-minute speech, however, the Russian president took the opportunity to highlight what he said were reforms enacted during his first two years as president that made the political system "more open and flexible."

According to Medvedev, those included measures reducing electoral fraud and allowing a greater role for parties that have a majority in regional parliaments in process of nominating governors.

The actual selection of regional governors is made by the president.

Another reform that Medvedev said is laying the groundwork for greater political plurality is a reduction in the number of voter signatures required for a party to run in elections.

Sergei Mitrokhin, the leader of the opposition Yabloko Party, told RFE/RL's Russian Service that Medvedev was taking credit for reforms that are cosmetic in nature.

"In reality, everything that has been listed are all merely superficial measures that do not change a thing," he said.

"The practice of collecting signatures remains. It turns into a mockery, because apart from signatures, passport information is demanded as well. And people don't want to give out their passport info because they are scared that this information will be used against them. The president is very much aware of this fact. How can the oppositional parties avoid marginalization in the face of unequal voting practices? Their own legal system is marginalizing them and discriminating against them," said Mitrokhin.

He likened the president's reasoning to the "theatre of the absurd."

Nikolai Petrov, a political analyst at the Carnegie Center in Moscow, told RFE/RL's Russian Service aid that Medvedev's video message was likely a preview of the annual address he is set to deliver to both houses of Russia's parliament on November 30.

"It is entirely clear that the president's address is some sort of prelude to his [upcoming] speech," said Petrov. "We are now seeing the beginning stage — diagnosis of problems and the analysis of what has already been done. And in the president's speech, it's clear that we will hear about some new proposals about instituting transitional political reforms and how he defines them."

Analysts will be walking that speech closely for any hints as to whether Medvedev intends to run for reelection in 2012.

Prime Minister Putin, who many view as the true power holder in Russia's ruling tandem, may also run for a return to the presidency in two years' time.
A transcript of the address in Russian can be found by clicking here.