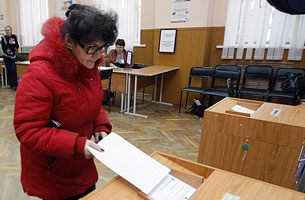 Regional elections held throughout Russia on Sunday met the expectations of electoral watchdogs and opposition politicians who have been warning for weeks that the country's longstanding trend of massive electoral fraud was showing no signs of fading.
Amidst numerous reports of ballot stuffing, censorship, destruction of campaign material, and – most commonly – fraudulent usage of absentee ballots, more candidates from the pro-Kremlin United Russia party won their campaigns than any others. The most successful runners-up included candidates from the Communist Party, the Kremlin-loyal A Just Russia party, and the ultranationalist Liberal Democratic Party of Russia.
Yevgeny Shevchenko of the Patriots of Russia opposition party said that the winner for city with the most absentee ballot violations was Chelyabinsk, where a whopping 40,000 such ballots were issued.
An example from regional Yabloko party leader Igor Yermolenko in Samara helps to demonstrate why committing fraud with absentee ballots in Russia is disturbingly simple. Speaking to the Kasparov.ru news portal, Yermolenko said that a group of people at one Samara polling station left with 40 blank absentee ballots despite only handing applications for 19. The regulations for recording how many ballots were taken was ignored altogether.
Grigory Melkoniants, head of the independent Russian electoral watchdog Golos, confirmed to Radio Free Europe/Radio Liberty that the elections were as dirty as in March.
"We recorded a whole series of violations on all levels of the elections, from the moment the campaign began to the counting of the votes, from buying votes to ballot-stuffing," said Melkoniants. He added that the organization had video footage of people being paid for their votes.
Other startling violations included forcing university students to sign off on a list that they had voted for United Russia candidates and driving busloads of voters to multiple polling stations.
Despite the violations, some of Russia's opposition parties were able to achieve relative success in some regions. According to Central Electoral Commission head Vladimir Churov, candidates from Yabloko, Patriots of Russia, and Right Cause won 167 mandates in Sunday's elections. That number is markedly higher than the 27 mandates won by candidates from those parties in regional elections last March.
Boris Nemtsov, co-leader of the opposition movement Solidarity and one of the founding members of the newly-formed coalition For Russia Without Tyranny or Corruption, remarked on his blog about United Russia's overall success in the elections:
"Every nation is befit of its government. Therefore, either our nation consists of traitors and thieves, or the elections weren't actually elections," he said. "I'm convinced that the second hypothesis is much closer to the truth than the first one."