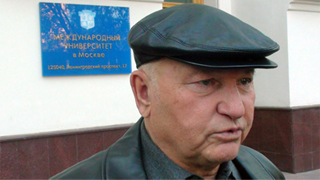 Just a week after being fired in the most embarrassing public shaming that the Kremlin has issued against a high-ranking government official in recent memory, reports have surfaced that former Moscow Mayor Yury Luzhkov has already found a new job. According to a press release on the website of International University in Moscow, Luzhkov was appointed Dean of the Department of Major City Management at that school back on October 1.
The appointment was made on the order of university President Gavriil Popov, Moscow's first mayor and Luzhkov's predecessor. "The Department of Major City Management didn't used to have a dean, only someone fulfilling those duties." said International University Press Secretary Yulia Mikhailova. "Therefore, when Yury Luzhkov turned out not to have a job, we gladly invited this unique specialist to work for us." The ex-mayor is taking a symbolic salary of one ruble per month for the newly-formed position.
Luzhkov, who has continued to arrive every morning at the Moscow mayor's office in order to collect his belongings, gave a short interview to Life News outside of International University on October 5. "I still haven't seen any students," he said, "but I've already congratulated the teachers on having a new department dean."
"We have several departments," Luzhkov elaborated. "The Department of Major City Management is a serious thing. There is no such specialty practically anywhere in the universities of our country. It's important not only for Moscow, but for any major city. There need to be specialists who would understand what a major city is, would know its particularities: it's economy, it's society, it's public and cultural life; who would be able to deal with its engineering systems – with everything that constitutes any city, not necessarily a major one."
Luzhkov, who ran Moscow for 18 years before being fired after apparently attempting to stoke conflict between Russian President Dmitri Medvedev and Prime Minister Vladimir Putin, has been widely accused of abusing his authority to give lucrative construction contracts to his billionaire wife, Yelena Baturina. He is also commonly lambasted for Moscow's famously bad traffic and his destruction of many of the city's treasured historical landmarks.
International University in Moscow was founded in 1991 by Popov and United States President George H. W. Bush as Russia's first private university. It was originally intended to serve as a joint educational institution between the two countries, but today only a few dozen of the school's approximately 3000 students hail from foreign countries, mostly the United States.
A source in the Moscow mayor's office told Gazeta.ru that the department he is now heading was "Luzhkov's brainchild," financed through his personal efforts.
"Of course, it wasn't money from the budget, but Yury Mikahilovich acted as a manager, got sponsors to sign up," said the source, who added that it was possible that other civil servants currently losing their jobs from the mayor's office in the whirlwind of Luzhkov's firing would be able to find work at the university.