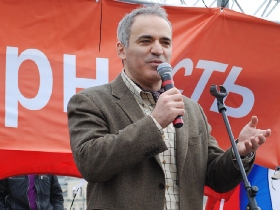 Garry Kasparov, a prominent Russian opposition leader and one of the founding members of the movement Solidarity, said on Sunday that the movement would have to wait until its scheduled meeting in December to decide whether or not to join a newly-founded opposition coalition.
The coalition, called For Russia Without Tyranny or Corruption, was created last month by a number of former high-ranking government figures who have since joined the democratic opposition. During a meeting on Sunday of Solidarity's Moscow branch, Kasparov said that he welcomes any union or negotiations between democratic movements in the country. However, he stipulated, there are some questions that need to be addressed.
One issue, said Kasparov, is whether or not the main goal of the For Russia Without Tyranny or Corruption is indeed to obtain federal registration as a political party with the Russian Ministry of Justice. In Kasparov's opinion, such an effort would be doomed to fail, and would therefore be pointless.
Political parties must be federally registered in order to participate in local or federal elections. The Russian authorities routinely deny registration to opposition parties, who counter that the refusals are politically motivated.
"The idea of party registration, which lies at the base of the coalition, is a fallacious basis for a union," said Kasparov, "as opposed to nominating a single candidate" for parliamentary elections in December 2011 and presidential elections in March 2012. He added that the main goal of the opposition currently is to mobilize its followers and hold large public events.
Kasparov's statements were in line with a decision agreed upon earlier by the Moscow branch of Solidarity that supported the new coalition but wished to put off making a definitive decision on joining it until December's meeting.