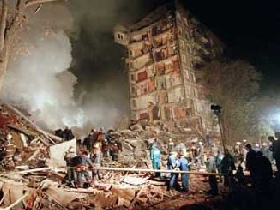 Approximately 100 people took part in a demonstration on Sunday in Moscow to express their continued disbelief of the Russian government's explanation for the infamous 1999 Russian apartment bombings, Kasparov.ru reports.
Demonstration organizer Elena Prikhodina of the Solidarity opposition movement said that the event, dubbed the Day of Disbelief, was dedicated to the so-called "Ryazan training exercises" held on September 22, 1999. Skeptics of the official explanation for the chain of deadly bombings – that the culprits were Chechen militants – cite the incident in Ryazan as evidence that the Russian Federal Security Services (FSB) were behind the bombings. They specifically accuse Vladimir Putin – who spent a year as head of the FSB until his appointment as Prime Minister in August 1999 – of being directly involved.
Participants of the demonstration gathered on Moscow's Chistoprudny Boulevard and held posters reading "We don't believe the state version of the explosions," "Ryazan. We don't believe," and "The FSB is hiding the truth. The casualties Anna Politkovskaya, Yury Shchekochikhin, Sergei Yushenkov, Alexander Litvinenko searched for this truth," among others.
Journalist Anna Politkovskaya, former FSB officer Alexander Litvinenko, and Duma members Yury Shchekochikhin and Sergei Yushenkov were all assassinated (in Shchekochikhin's case, suspected to have been assassinated) between 2003 and 2006. Each had investigated the bombings and suspected that the FSB was to blame.
Another demonstration organizer, Mikhail Kriger, noted in his speech to the crowd that the bombings played a key role in Vladimir Putin's first presidential campaign. Blaming the attacks on Chechen militants became the official basis for beginning the Second Chechen War, which greatly boosted Putin's popularity, thus effectively aiding in his election. That potential motive, together with a wealth of evidence of foul play on the part of the Russian authorities, points to the FSB and Putin as perpetrators of the bombings, say skeptics of the government's response.
Putin has written off the charges as "delirious nonsense," but requests by relatives of victims of the attacks and others for an independent investigation continue to go unanswered.