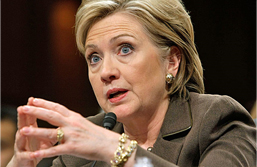 The Russian press is reporting strong statements from United States Secretary of State Hillary Clinton on the suppression of civil activists who work to develop democracy around the world, but in Russia in particular. The Moscow Times reports:
U.S. Secretary of State Hillary Clinton challenged what she calls a global crackdown on human rights during a trip through former Soviet republics over the weekend, lamenting a "steel vise" squeezing the life out of social activism.

Clinton arrived in Azerbaijan on Sunday after declaring in Poland that intolerant governments, including Russia's, are undercutting rights groups whose work is vital to the development of democracy. She said the trend is apparent and growing worse, even in countries that call themselves democracies.

At the palatial residence of President Ilham Aliyev, overlooking the vast, glimmering Caspian Sea, Aliyev and Clinton spoke briefly before reporters and television cameras.

Aliyev stressed the urgency of his country's territorial dispute with neighboring Armenia. The two nations are in conflict over Nagorno-Karabakh, an enclave in Azerbaijan that has been under control of Armenian troops and ethnic Armenian forces since a 1994 cease-fire.

"This is the major problem for us and the major threat to regional security," he said.

At an airport news conference later with her Azeri counterpart, Elmar Mammadyarov, Clinton said they had discussed at length the territorial dispute.

"The final steps toward peace are often the most difficult, but we believe peace is possible," Clinton told reporters.

"This is a high priority for the United States," she added. She said the 1994 cease-fire agreement "must be enforced."

Following her meeting with Aliyev, Clinton gathered with about a dozen Azeri youth activists, including bloggers, to encourage them to speak out in favor of social change.

She said she raised the issue of freedom of expression in her talks with Aliyev.

On Saturday, addressing an international conference in Poland on democracy and human rights, Clinton recalled Winston Churchill's warning 60 years ago that an iron curtain was descending across Europe. She noted that with the collapse of the Soviet Union, that curtain no longer remains.

"But we must be wary of the steel vise in which governments around the world are slowly crushing civil society and the human spirit," she said.

Among the offenders she cited: Zimbabwe, the Democratic Republic of Congo, Ethiopia, Cuba, Belarus, Egypt, Iran, Venezuela, China and Russia.

Clinton said her current trip, which began in Ukraine on Thursday and was to include stops in Armenia and Georgia, is intended to demonstrate the Obama administration's commitment to democracy and human rights.

In Ukraine, Clinton praised the new Moscow-friendly leadership for its pursuit of democracy, skimming over concerns about a rollback of liberties.

At a joint news conference with Ukrainian President Viktor Yanukovych, Clinton said the Obama administration supports efforts by Ukraine to deepen its relationship with Russia, so long as it also remains open to closer ties to the United States and Europe.

Yanukovych said he views the United States as a reliable strategic partner and is prepared to take new steps to build a stronger partnership.

Clinton also met privately at her Kiev hotel with former Prime Minister Yulia Tymoshenko, who lost the February presidential election to Yanukovych and remains his political enemy.