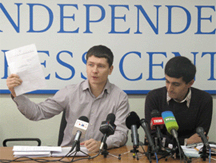 A Russian journalists union is expressing concern that a rise in systematic violations of journalists rights is leading to increased censorship and self-censorship throughout mass media in the country, Kasparov.ru reports.
Oleg Ptashkin, leader of an independent journalists trade union, said in a press conference in Moscow on Tuesday that the managers of numerous media outlets were using the global economic crisis as an excuse to hire journalists as independent contractors instead of normal employees. Ptashkin, who used to work for Russia's state-controlled Channel One TV until he was illegally fired, said that these kinds of contracts violate the rights of media workers and that his union is working on an initiative to ban the practice.
Igor Trunov, a lawyer for the trade union, said that the Russian government has recently been using a wide variety of measures to put pressure on journalists and the media. Among such measures, he said, have been police raids on editorial offices, evictions, and libel and defamation suits. Last month, for example, the editorial offices of the New Times magazine were raided after an article was published accusing an elite subdivision of the OMON riot police of using migrant workers for slave labor. The raid was condemned by journalism watchdog groups worldwide, but the police justified their actions by accusing the publication of poor-quality journalism.
New legislation expected to be adopted soon by the Russian State Duma that allows the Federal Security Service (FSB) to issue preemptive warnings to anyone suspected of acting in a way that might lead to extremist behavior is one of the most serious blows to free speech and democracy facing the country right now, Trunov went on. The bill's wording is so vague, he said, that it would allow police to issue a few such warnings and then arrest a publication's editor-in-chief for a fifteen day term.
Shortcomings in current Russian law would make it virtually impossible to appeal such decisions, the lawyer added.
Ptashkin said that the union is appealing to Russian President Dmitri Medvedev with a request to veto the bill.