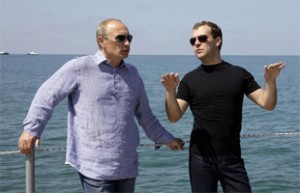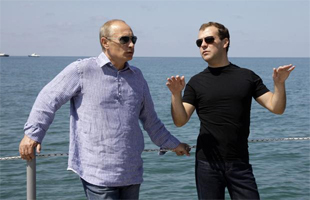 There are two new surveys out this week that shed some light on how Russians view democracy, in both practical and ideological terms. One confirms that a longtime trend of valuing order over democracy may be on the decline, while the other shows that few Russians think their president is really in charge of their country.
"What's more important – democracy or order?" Moreover, how do Russians understand both of these concepts? These were the questions posed to 1600 Russian citizens in January by the Russian Public Opinion Research Center (VTsIOM), and published on April 12. The most eye-catching statistic is the overwhelming majority of respondents who say that order is more important for Russia than democracy – 72 percent, with 16 percent responding conversely. But that number is actually down from the last time VTsIOM conducted a similar survey in 2000, when 75 percent of Russians said they favored order, and 13 percent – democracy.
But the Russian perception of what "democracy" actually means has changed significantly in the past few years. Given a list of attributes to pick from to define it, significantly fewer respondents chose "freedom of speech/press/religion" as emblematic of democracy (down to 44 percent in 2010 from 55 percent in 2007). While 44 percent picked "economic prosperity" three years ago, only 28 percent picked it in 2010. Figures were also down for "strict lawfulness" (23 to 21 percent) and "order and stability" (25 to 19 percent). On the other hand, more people defined democracy as "the opportunity for everyone to do whatever they want" (10 percent in 2010 compared to 7 percent in 2007), "anarchy" (up to 6 percent from 3 percent), and, most notably, "empty chatter" (up to 11 percent from 5 percent).
Russian perceptions of "order" have changed significantly as well, but VTsIOM's most recent data prior to this year is from 2000, making the comparisons less meaningful. In any case, compared to opinions in the year 2000, fewer Russians today define "order" as "political and economic stability of a country" (down to 41 from 46 percent), "a stop in the plundering and stripping of a country" (25 from 34 percent) or "the strict observation of laws" (24 from 35 percent). They do define it more often as "social defense of underprivileged segments of the population" (up to 29 from 25 percent) and "the opportunity for people to see their rights fulfilled" (25 from 16 percent).
For both definitions, more Russians were unsure of how to answer this year than in previous ones: 8 percent were unsure about "democracy" in 2010 compared to 5 percent in 2007, and 4 percent were unsure about "order" in 2010 compared to 2 percent in 2000.
As for demographics, those who favored order over democracy consisted primarily of the elderly, the uneducated, and low-income individuals. The majority of them are members of the Communist Party or the Kremlin-loyal opposition party A Just Russia. Democracy was valued more by 18-24 year olds, the highly educated, and wealthier individuals.
Overall, it appears that even if preferences for democracy are on the rise, positive views of what that word means are dwindling. But as the third of the population that still favors a Stalin-like leader (and, consequently, order) continues to age, it doesn't look like their grandkids plan to follow in their ideological footsteps.
The second poll, conducted by the Levada Center and also consisting of 1600 surveyees from all over Russia, focused on perceptions of the president's political independence. Caricatures of President Dmitri Medvedev as Prime Minister Vladimir Putin's puppet became ubiquitous in the West after Russia's 2008 presidential election, but have fallen out of style as the press finds itself faced with more and more conflicting statements from the two prominent leaders. And while experts continue to debate whether these conflicts represent real differences of opinion or just attempts to feign legitimacy, most Russians have apparently taken the puppet metaphor to heart. The Levada Center survey published today estimates that 66 percent of Russians believe that President Medvedev "operates under the control of Putin and his adherents" in the Kremlin. At the same time, a sizeable minority of 22 percent reject this notion, maintaining that Medvedev works to further his own policies. Both of these figures are more or less consistent with two other studies conducted in the past year.
Similarly, the majority of Russians (51 percent) feel that power is shared equally by both of these leaders. Indeed, Putin and Medvedev have often remarked about how they work "as a tandem." But the Russians who do feel that there is an imbalance of power in country are more likely to believe that the majority of it rests with Putin (28 percent) as opposed to Medvedev (13 percent).
Regardless of who's pulling the strings, Russians are overwhelmingly united in their belief that Medvedev's is following the same political course as his predecessor: 55 percent say he's continuing it generally, and 24 percent – exactly. Only 3 percent of Russians believe that Medvedev's policies are "entirely new."
The VTsIOM poll can be read in Russian by clicking here.
The Levada Center poll can be read in Russian by clicking here.