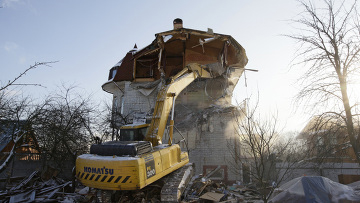 Update 1/26/10: Excavators resumed house demolitions Tuesday morning, reneging on a statement on Monday that residents would be given several days to voluntarily leave their homes and for recent subzero temperatures to subside. Authorities say that as a court had ordered the demolitions, continuing to halt the demolitions would be in violation of judicial authority.
Meanwhile, residents have largely run out of food and fuel, and fear that they will not be allowed back into their homes if they leave to purchase more. They have additionally sent a delegation to the German and American embassies with a request to be taken in as refugees.

Also on Tuesday, Sergei Udaltsov, an activist leader supporting the residents, was arrested in Rechnik on unclear charges of extremism.
Residents of Rechnik, a small village on the outskirts of Moscow, have pledged "to stand until death" in the face of a city order to demolish their homes, reports Gazeta.ru.
At a meeting on Saturday between residents, activists, police, and government deputies, residents of the small village demanded that authorities put a moratorium on the demolition of their homes, which began Thursday night and is due to continue on Monday morning after a weekend break, as well as create a conciliation committee. They also voiced concern that police were not allowing ambulances through to the village.
On Thursday night, two Rechnik residents were hospitalized and about 25 detained after attempting to stop workers from bulldozing their homes. On Friday, home owners barricaded themselves inside one of several building slated to be razed, but were unable to hinder workers from continuing to demolish other homes. As of Sunday night, altogether six had been taken down.
Moscow city authorities brought the village to court after an environmental watchdog investigated Rechnik in 2006, concluding that the houses had been illegally built on land that had been set aside for collective gardens during Soviet times. Despite being illegal when they were built at the end of the 1950s, the houses in Rechnik were never torn down. Residents say that while other similar villages have long since been legalized through a "dacha amnesty" program, Rechnik had simply been forgotten. Moreover, they say, the village had not been notified of the court's decision to tear down their homes and had not been invited to contest it.
"The village Vodnik and other similar garden associations also exist in rural Moscow, and it was a difficult situation, but they all fell under the amnesty," said one resident. "But it's as if we're the only ones." Despite promises that the houses would be replaced with a park, numerous residents expressed certainty that they would be replaced with "some kind of elite housing."
Sergei Udaltsov, leader of the Left Front political organization and present at Saturday's meeting in support of the protesters, said that the residents must necessarily be granted a moratorium until Moscow's recent subzero temperatures subside. "This is simply inhumane – to kick people out into the streets in such cold," he said.
Rechnik residents promised to use any means possible to stop police from evicting them, including blocking entrances to buildings by pouring water over the walkways, rendering them too icy to walk on. Additionally, one resident veteran threatened to set himself on fire, and another resident said that he would employ his pet leopard against police if necessary.
"We're going to stand until death," said Sergei Bobyshev, the leopard's owner. "Yes, the leopard Cleopatra lives in my house, a very affectionate pet cat with the manners of a dog – she's already four years old," he said, adding that he had all the necessary legal documents for the unusual pet.
The village has additionally issued an appeal to Prime Minister Vladimir Putin to personally intervene in the situation, apparently following the example of the town of Pikalevo, where residents successfully appealed to the prime minister in May after being denied long unpaid wages.
Vladimir Vasiliev, head of the State Duma commission on safety, urged residents to bring him all of the home ownership documents that they could find. Owners of the demolished buildings promptly handed him a large packet of papers. Public Chamber representative Anatoly Kuchern promised to investigate whether or not Rechnik was eligible for dacha amnesty.
Despite the weekend moratorium on demolitions, police had blocked off one of the only two roads to Rechnik on Sunday night, preventing residents from returning to their homes. Police claimed that they were blocking the road because a nearby nature preserve was closed.
Russia's Prosecutor General and Internal Ministry are meanwhile investigating accusations of police misconduct during the demolitions on Thursday and Friday.