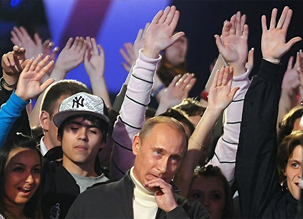 Russian Prime Minister Vladimir Putin surprised journalists and rappers alike with an unannounced guest appearance at a hip-hop awards show on Friday.
During the "Battle of Respect," broadcast on Russian music channel Muz-TV, the Prime Minister distributed awards for top performers in rap, break dance, and graffiti. Noting that the awards show was the result of collaboration between Muz-TV and the government, Putin praised the project for helping "to propagandize a healthy way of life." He called the three award categories "even more attractive a combination than vodka, caviar and matryoshkas," and stressed the importance of multiculturalism in hip-hop. "Not everyone likes it," he said, "but we live in a unique time that is characterized by a transfusion of cultures and customs."
The young hip-hop fans responded well to the Prime Minister's appearance. Zhigan, one rapper who received an award, said that "it would have been cool to record a joint track with Vladimir Putin because he is a legendary man and our idol."
According to an article by Reuters, the Prime Minister's falling approval ratings may have triggered the publicity stunt. His spokesperson, Dmitri Peskov, denied any connection, saying that "Putin has a high and stable rating that does not require any support." In October, Putin's ratings fell from 72 to 66 percent, a record low.
A video of Putin's appearance can be seen at the Huffington Post.