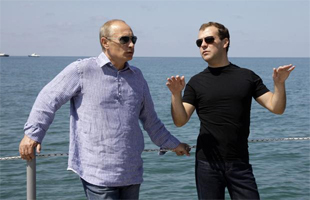 According to a survey done by the Russian non-profit Public Opinion Foundation, Russians' trust in both President Dmitri Medvedev and Prime Minister Vladimir Putin decreased in the last half of October.
Of the surveyed, trust in President Medvedev dropped from his record 62 percent to 56, and from 72 to 66 percent for Prime Minister Putin.
According to the Russian newspaper Vedomosti, the drop in ratings elicited shock from the Prime Minister's press secretary, Dmitri Peskov, who called it a "paradox." The administration is considering the fluctuation to be a result of "seasonal factors."
Possible seasonal factors include a traditional rise in early November of protest activity, as well as rigged elections in October that gave sweeping wins across the country to Prime Minister Putin's leading United Russia party.