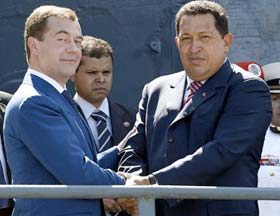 Theotherrussia.org provides a glimpse into the topical news stories emerging from Russia:
Venezuela Recognizes South Ossetian and Abkhazian Independence
On Thursday, Venezuelan President Hugo Chavez announced that Venezuela would recognize South Ossetia and Abkhazia as independent states separate from Georgia. Chavez was in Moscow to meet with Russian President Dmitri Medvedev and negotiate a series of arms deals.
Read more from The Moscow Times.
Putin Signals Possible Return to Presidency
Russian Prime Minister Vladimir Putin has given the clearest indication that he may return to the Presidency in 2012.
Read more from the Wall Street Journal.
Russia Denies Rumors Concerning Arctic Sea Vessel
Russian foreign minister Sergei Lavrov denied accusations from the West that the hijacked Arctic Sea trade ship was carrying a cargo of S-300 missiles. Latvia, Estonia, Malta, Sweden, and Finland began an investigation into the matter. Rumors swirled as it became known that Israeli Prime Minister Benjamin Netanyahu secretly visited Russia as the Arctic Sea hijacking was unfolding.
Read more from the RIA News Agency and Reuters.
Suicide Attacks Continue in Ingushetia
Suicide attacks continued in the volatile Republic of Ingushetia, including a truck bombing that left one dead and several people injured in Nazran. The attack followed a much larger one in August.
Read more from the RIA News Agency.
Russia Takes Control of Abkhazian and South Ossetian Borders
Russian President Dmitri Medvedev signed a pact on Thursday giving Russia control over the borders of South Ossetia and Abkhazia.
Read more from Reuters.
Fugitive Cell Phone Tycoon Released on Bail
Yevgeny Chichvarkin, who helped create the Russian cell phone giant Yevroset, was released on bail after a brief arrest in Britain, while he awaits extradition charges to Russia. The Russian Prosecutor General wants to try the tycoon on charges of extortion and smuggling, although it is unclear if Britain will allow his extradition.
Read more from The Moscow Times.