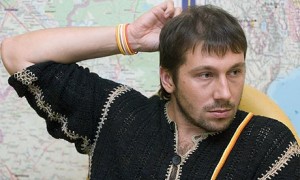 Theotherrussia.org provides a roundup of important news stories relating to Russia:

GQ Suppresses Controversial Article in Russia
GQ magazine has gone through great measures to prevent a controversial article on Russia to appear in the country. The story questioned the role that Russia's security agencies played in a series of devastating apartment bombings that took place in 1999. The bombings propelled Russia into a second war in Chechnya and marked the start of then-Prime Minister Vladimir Putin's consolidation of power.
Read more from National Public Radio. A full scan of the article as well as a Russian translation are now available from Gawker.
Britain Files Arrest Warrant for Cell Phone Tycoon
On August 27 Britain filed an arrest charge against Yevgeny Chichvarkin, former chairman of Russian Yevroset cell phone company. Russian prosecutors seek to extradite him for extortion and smuggling, and the case may prove important for Russian-British relations. Chichvarkin maintains his innocence.
Read more from the Moscow Times.
Russia's Single Industry Towns Struggling
Many of Russia's 500 single-employer towns are struggling, and Russian workers are feeling the pinch. Unique issues, like difficulty of mobility, are making things worse.
Read more from the Associated Press.
Russian Supreme Court Demands Further Investigation of Journalist Killing

The Russian Supreme Court recently ruled to investigate the brutal murder of reporter Anna Politkovskaya in 2006 further, overturning the previous rejection by a lower court to do so. Ms. Politkovskaya was an outspoken critic of Prime Minister Vladimir Putin's regime and the government of Chechnya.
Read more from the St. Petersburg Times.
Russian Piracy Expert Flee Russia
Mikhail Voitenko, a piracy expert who first wrote about the Arctic Sea incident, has fled Russia after being threatened by "anonymous" sources. Voitenko suspects involvement by the country's security forces.
Read more from the St. Petersburg Times and CNN.
Russia and United States Renegotiate Nuclear Arms Pact
Barack Obama and Dmitry Medvedev have been meeting since July to negotiate a deal on nuclear weaponry once the START pact expires in December. They have had difficulties with establishing certain policies such as how delivery vehicles for nuclear weaponry should be managed.
Read more from the RIA News Agency.