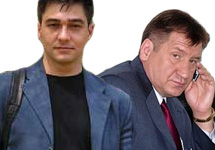 Four opposition candidates from the Solidarity Democratic Movement have been removed from the Moscow City Duma election. The candidates, who have been cut on what look to be technicalities, believe the move comes on order from above.
As Solidarity press-secretary Olga Shorina reports, the last candidate to be pulled from the ballot was human rights activist Sergei Davidis, who was running in Moscow's Western District. The local electoral commission invalidated 913 of the 4185 signatures he collected, well over the allowed 10%, and rejected his registration. An official from the commission clarified that the problem was not in the signatures themselves, but in the date written next to them. An expert analyst had found that the handwriting of the dates did not match the signatures.
Ivan Starikov, a board member of Solidarity, was removed in a similar manner, the Kasparov.ru online newspaper reports, citing the candidate. In Starikov's case, some 600 of his 6000 signatures were invalidated, because signatories wrote down "Moscow" and not the specific district of the city where they live. The electoral commission had not voiced any similar concern when Starikov had turned in a sample list of signatures.
Starikov said that officials admitted to him that he could not be registered due to an "order from above." He vowed to challenge the official decision, which should be issued on September 4th, and said he would protest against the commission's illegal actions.
Two other candidates, Ilya Yashin and Igor Drandin, had 100% of their signatures rejected. In Yashin's case, local commission member Konstantin Sdobnov said there were "gross violations" and "improper execution." He did not specify what exactly was wrong with Yashin's signature lists.
Drandin said the commission had invalidated "all 104 percent" of his signatures.
The Moscow City Duma elections will take place on October 11th, and the nomination process has been closed. Six political parties have submitted party lists, and 142 candidates have registered for the 17 single-mandate districts.
—
Opposition leader and Solidarity board member Boris Nemtsov commented on the news in his LiveJournal blog:
It was just reported that my friends from Solidarity – Ilya Yashin, Ivan Starikov, Sergei Davidis and Igor Drandin- were removed from the elections. Removed on absolutely absurd pretenses. If the cowardly and thieving regime thinks that in doing so it has won, it is deeply mistaken. The battle will continue. In the streets. Watch for developments.