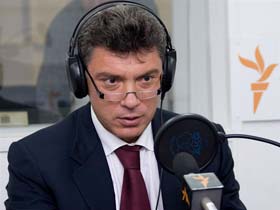 Boris Nemtsov, a leader of the Solidarity democratic movement, was shocked to discover that his movements were being tracked.  Nemtsov, who gave an interview to Radio Svoboda, said his driver found a remote tracking device attached to the undercarriage of his car.  The object, fashioned from an ordinary cellular phone, was apparently in place for at least two weeks.  Its battery, which holds enough charge to last for around two weeks, was completely drained.
Observers first thought it may have been a bomb, but specialists who arrived at the scene determined it was in fact a tracking device.
Responding to a question of who could have ordered the search, Nemtsov said he was puzzled.
"I have too many detractors," he said, "just as practically every public figure and politician, to make any kind of specific presumptions.  Although in the history of my long-standing political career, this is perhaps the first case where something like this has happened.  By the way, I am more interested in the question of "why" this was done and not even "who" did it."
Although the device seemed to be the work of amateurs, Nemtsov did not rule out the fact that Russia's intelligence agencies could be involved.  The opposition politician discounted the possibility that criminals were trying to steal his car, a Range Rover SUV.
Nemtsov is currently working to prepare the Solidarity movement for October 11 elections to the Moscow City Duma.
"We have 8 candidates intending on taking part in the elections," he said.  "This, basically, is my main work right now."