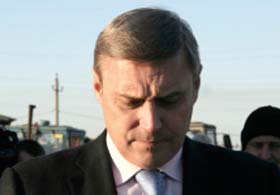 A former Russian Prime Minister revealed Monday that the Kremlin's campaign against jailed oil tycoon Mikhail Khodorkovsky had a definitive political motive.
Mikhail Kasyanov, who served as Prime Minister from 2000 to 2004, told the Financial Times that then-President Vladimir Putin personally spoke with him about the case against Khodorkovsky.  Kasyanov, now an opposition politician who leads the Russian People's Democratic Union, said Putin was unhappy with Khodorkovsky's campaign financing for the Communist Party.
"He told me Khodorkovsky…was financing the Communist party without his agreement," Kasyanov said.  In the same closed-door conversation, Putin told Kasyanov that the western-leaning Yabloko and Union of Right Forces parties were being financed by Khodorkovsky under the Kremlin's direction.  "He did not say any more," Kasyanov explained.
Putin's confession, Kasyanov said, came after he repeatedly pressed the president on the reason for the arrests of Khodorkovsky and his associate, Platon Lebedev.  Kasyanov believes Putin may have been concerned that the Communists would form a block with the liberal rightists parties and pose a serious threat to Putin's United Russia Party in the 2003 State Duma elections.
Putin press-secretary Dmitri Peskov declined to comment on Kasyanov's statement.
The former PM has pledged to support Khodorkovsky and Lebedev in their case before the European Court of Human Rights in Strasbourg.  Initial hearings are set to start in November.
Read more from the Financial Times.