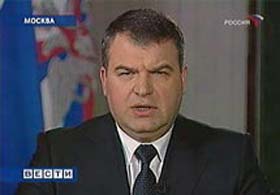 Russian Defense Minister Anatoly Serdyukov revealed Wednesday that the number of crimes committed by Russia officers had grown by a third over the past year.  Officers are now responsible for every fourth crime committed in the Armed Forces.
As the RIA Novosti news agency reports, Serdyukov made the announcement at a joint conference of the Defense Ministry and the Main Military Procuracy.
The predominant crime among officers is abuse of authority and the powers of office (46%), which includes corruption.  Serdyukov said the damage done by these crimes amounts to around 1.5 billion rubles (€34 or $47 million) yearly.  Officers have also been found guilty of dodging active service, as well as assault and battery.
The Defense Minister believes the situation is partly caused by a weak educational groundwork among officers.
"Arrangements are not made for open discussion of officer misconduct at service conferences or officer meetings," Serdyukov said.  He called on military prosecutors to join forces "in resolving this important and complex problem, to work out concrete measures for reducing the level of criminality among officers of the Armed Forces in the near-term."
"We are not content with the level of legal knowledge and the effectiveness of individual performance," Serdyukov noted.  Crimes are frequently hushed-up before the military community and military families, he added.
"The formal relationships of some bosses to determining the best officers for 2008 has led to a situation, where far from the best have ended up among those given encouragement through monthly bonuses."