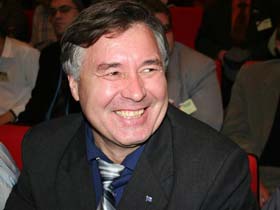 An opposition activist from the Siberian city of Kasnoyarsk has died in prison in what authorities describe as a suicide.  Prison officials say Rim Shaigalimov, an active member of the Other Russia coalition, jumped from a fourth-story window on June 27th.  Relatives, meanwhile, suspect foul play.
Shaigalimov, 52, was on the seventh month of a five-year sentence for hitting a police officer with a flagpole during a demonstration, a charge he repeatedly denied.
The Russian Public Prosecutor's Office has launched an inquiry, which has already described Shaigalimov as a problem prisoner prone to suicide.
According to the inquiry, Shaigalimov died on the way to the hospital after he jumped from the fourth story window of a high-security building.  Prison officials said that the suicide was caught on a surveillance system camera.
The activist's wife, Lyudmila Shaigalimova, told the Kasparov.ru online newspaper that her husband never had suicidal tendencies, and that he had feared for his life in prison.  She believes he may have been killed, and is pressing for an independent investigation.  She also asserted that Shaigalimov's body showed signs of injury not related to his fall.
"It was absolutely clear that the death was caused by suffocation," she told Radio Free Europe/ Radio Liberty.
Shaigalimov, a former opera singer and photographer, had taken part in more than 100 opposition demonstrations, some of them solitary pickets.  He was a member of the Other Russia coalition, and a one-time deputy to the organization's alternative parliament, the National Assembly.