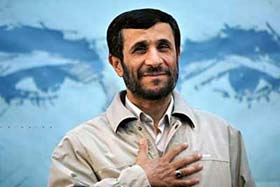 In an apparent effort to discredit Iranian authorities, the country's opposition is making claims that President Mahmoud Ahmadinejad received backing from the Russian government.
Iranian film director Mohsen Makhmalbaf, on behalf of opposition presidential candidate Mir-Hossein Mousavi, accused Ahmadinejad of selling out Iran's interests to Russia over the past four years.  In part, Makhmalbaf charged that Ahmadinejad gave up Iran's Caspian Sea rights, and gave concessions in other areas in exchange for support from Moscow.
Makhmalbaf also claimed to have information that Russia had provided high-ranking consultants to teach Iranian authorities effective ways to repress the opposition.
Russia was one of the first countries to congratulate Ahmadinejad of victory in Iran's highly contested presidential elections.  Observers noted irregularities during the vote, and Mousavi has called the June 12th election a "charade."
As result of Russia's quick support for Ahmadinejad, as well as Makhmalbaf's accusations, supporters of the Iranian opposition staged a protest outside the Russian embassy in Toronto.
The activists were fueled by the fact that Ahmadinejad travelled to Yekaterinburg, Russia shortly after the election on June 16th, even as the country was facing its most severe political crisis since the 1979 revolution.  Ahmadinejad, who had planned the trip before the election, attended a summit of the Shanghai Cooperation Organization (SCO), a regional security organization whose members include Russia, China and four Central Asian republics.  Iran serves as an observer in the SCO.
Ahmadinejad was named the winner of the election on June 13th, with officials announcing he had taken 62.6% of the vote.  In response, supporters of Mousavi took to the streets, alleging that the result had been falsified and that Mousavi had likely won more than 33.75% of the vote as officials claimed.  As many at 100 thousand Mousavi supporters took part in the street demonstrations, which are scheduled to continue.  Some reports indicated that police had opened fire on the crowds.
—
Read more about Iran and the disputed election from the New York Times newspaper
Read an analysis of why Makhmalbaf may be implicating Russia