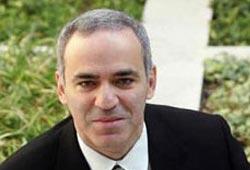 Writing for the Wall Street Journal, Russian opposition leader Garry Kasparov cautions against jumping to quick conclusion on any liberalization taking place under Russian President Dmitri Medvedev.  Commenting on elections in the Black Sea resort town of Sochi and the second trial of Mikhail Khodorkovsky, Kasparov sees that little has changed in terms of actual policy, arguing that Prime Minister Vladimir Putin remain in charge.
Putin's Ninth Year in Power
Russia's new president hasn't changed the nature of the regime.
May 13, 2009
By GARRY KASPAROV
It has become fashionable to speak of change and liberalization in Russia under President Dmitry Medvedev. May 7 marked his one-year anniversary in office. He has recently granted an interview with an opposition newspaper, allowed a few human-rights activists to criticize Russia's regime, and even started a blog. There is also a new administration in Washington that wants a fresh start with foreign powers.
However, Mr. Medvedev's gestures have not been matched by policy. It is more appropriate to think of Russia as living under Vladimir Putin's ninth year in power. Mr. Putin is now prime minister but still in charge. His agenda of oppression and plunder is still the course in Russia. The Kremlin's willingness to install its candidates in office and persecute its opponents remains undiminished.
Last month, the Putin government inserted itself into the mayoral election in Sochi, a resort town on the Black Sea that has been selected to host the 2014 Winter Olympics.
The International Olympic Committee (IOC) picked the subtropical Sochi after what must have been an extraordinary lobbying effort on behalf of the Russian government. Sochi has a near total lack of infrastructure needed to support an event as large as the Olympics. Getting the city ready for the Games will result in a massive looting of the state treasury to construct, among other things, vast new developments on swampland. Russia is budgeting $15 billion for the project, while Canada is spending $2 billion on the 2010 Vancouver Games. Look for friends of Mr. Putin to benefit from the coming splurge on construction.
Sochi's residents are being pushed out of their homes and construction will proceed regardless of whether cemeteries or wetlands stand in the way. The construction will be an ecological as well as a human-rights catastrophe. Will the IOC intervene or say even a word? Will the leaders of the Free World be so eager to press the reset button with Russia that they too will say nothing?
Sochi's residents are speaking up and, surprisingly, in the mayoral election held there in late April there was a real opposition candidate. Sochi native Boris Nemtsov is a charismatic leader who served as deputy prime minister under Boris Yeltsin in the 1990s. As has become standard practice in our elections, however, the United Russia incumbent, Anatoly Pakhomov, refused to debate or even mention his rival. Meanwhile, the media dutifully served up United Russia propaganda by publishing outlandish slanders against Mr. Nemtsov. (Including accusations that he tried to sell the Olympiad to the South Koreans, who lost the bid to Sochi.)
Mr. Nemtsov did appear on the ballot, a rare feat for an opposition candidate in Russia. But this was no demonstration of Mr. Medvedev's "liberalization." The Kremlin left nothing to chance. Early voting (which involves ballots being cast before Election Day and held in a "secure" location) is typically exercised by just a handful of voters in Russia. But in Sochi, more than 25% of the ballots cast for mayor were early votes — roughly 100 times higher than in previous Russian elections. More than 90% of these votes went to Mr. Pakhomov. He won the race with 77% of the vote. There were other irregularities. At one polling station the number of ballots tallied was 250 higher than the total number of ballots distributed.
Simply appointing mayors would violate the European Charter, to which Russia is a signatory, so elections will continue. But just in case United Russia ever comes up short, Mr. Medvedev is pushing a new law that will allow city councils to remove elected mayors by a two-thirds vote with no appeal to a court.
Some of Mr. Putin's opponents cannot be eliminated simply by rigging an election. The new show trial of Mikhail Khodorkovsky (once Russia's richest man) and his business partner, Platon Lebedev, is a case in point. Terrified by the scheduled 2011 release of this clearly unbroken man, the Putin regime has decided to extend Mr. Khodorkovsky's sentence. The new charges accuse Mr. Khodorkovsky's old company, Yukos, of stealing all the oil it ever produced.
The prosecution has no answer to Mr. Khodorkovsky's question why, if Yukos was a criminal organization, its properties weren't seized and investigated instead of quickly auctioned off to Mr. Putin's allies? Eager to see the surreal spectacle for myself, I attended the trial in Moscow last week.
It has been obvious from the moment of his arrest in 2003 that Mr. Khodorkovsky's prison term will be no shorter — and I'd wager not much longer — than Mr. Putin's reign. Knowing full well the court will deliver whatever verdict is demanded by the Kremlin, the prosecution must nevertheless read its lines in the play. And it does resemble a scripted drama, as the judge has precluded the defense from challenging documents presented by the prosecution during the trial.
One of the prosecutors attempted to insult the defense attorneys by quoting Blaise Pascal, who once wrote something to the effect that an advocate has much greater confidence in his cause when retained for a large fee. During the break I asked her if she knew another of Pascal's lines: "Unable to fortify justice, they have justified force."
There are optimistic rumors in the West of a potential rift between Messrs. Medvedev and Putin. With the steep drop in energy prices, the Russian economy in free fall, and the need to find a scapegoat, a clash is likely. But it will not be because the two men differ significantly in matters of morality and power. We have seen enough to recognize that they are both enemies of democracy, open competition, and free expression.
Mr. Kasparov, leader of The Other Russia coalition, is a contributing editor of The Wall Street Journal.