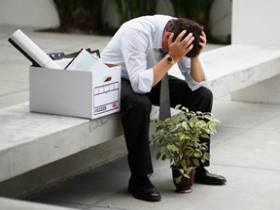 Unemployment in Russia reached new highs in April, growing by 1.8 million people in the first quarter of 2009.  According to Rosstat, the Russian statistical agency, 7.107 million people are now unemployed.  The agency, which prepared its report using the methodology of the International Labour Organization, released the figures on April 20th.  The Economic Development Ministry said 2.34 million people were officially registered as unemployed.
Adjusted for the latest numbers, Russia's unemployment rate now stands at 9.5 percent.
The increase in unemployment was higher than anticipated.  The prognosis from the Ministry of Health and Social Development expected the number to rise by 2.2 million for the year.  Russia's lower house, the State Duma, also used this number in writing its anti-crisis budget for 2009.
Many Russians who had not lost their jobs were also feeling the pinch at work.  In an effort to cut costs, companies were slashing workweeks and hours for workers.  A recent survey also found that 32 percent of Russians had encountered delays in wage payments in March.
Russian President Dmitri Medvedev earlier announced that 1 million temporary jobs would be created in 2009.  Medvedev also suggested that workers who lost their jobs undergo retraining.