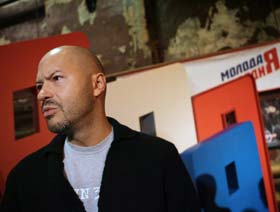 Russian film director Fyodor Bondarchuk got the Russian internet buzzing Tuesday when word got out that he was asserting that present-day Russia was descending into a totalitarian regime.
Speaking at a press-conference for the second installment of his latest film, The Inhabited Island, Bondarchuk was asked to speak on symbolism in the movie.  The futuristic sci-fi flick, based on a 1971 novel by Arkady and Boris Strugatsky, takes place on a planet ruled by a military dictatorship, where authorities use a network of towers as mind-control devices over the population.
Bondarchuk, a member of the ruling United Russia party, told the audience that "we are heading into the toilet," suggesting that the film's towers represented propaganda and the complete lack of media freedom in Russia.  The words were picked up in the Russian blogosphere, spreading like wildfire after they appeared on the Kasparov.ru online newspaper.
With his speech public, the director went on the defensive, recanting what he had said and expressing disgust at Kasparov.ru.  Speaking with the PolitOnline internet publication, Bondarchuk said, "I feel downright unpleasant – I've been smeared…  I was talking about [a quote] from a Serebrennikov film, 'Russian film is in the toilet, only Fyodor Bondarchuk is a cool guy,' and they transferred these words to the country.  I said nothing of the sort!  Everyone knows my position and what I say about the president perfectly well."
Bondarchuk went on to clarify that America, not Russia was descending into totalitarianism:
"I really did speak about newspapers, but that we're heading, that there's a totalitarian regime – I was actually talking about America.  They organized such a mess – changing two words and coming out with this… I always said that I support United Russia and can speak freely, make films in a free country.  I said 'Thank God that I don't live in Belarus, where they banned the screening of The Inhabited Island.'  But they don't write this!  One more time – the phrase was said about a motion picture, it was a quote.  They've completely lied through their teeth at Kasparov.ru."
A full transcript of the press-conference (Rus), however, seems to contradict Bondarchuk's later comments.
A listener asks the director, "What do you associate with these towers in our country?"  After a pause, Bondarchuk responds:
"We're heading into the toilet… There are no newspapers, no radio.  There's only the internet.  When we had Yeltsin, people ran to watch the television, which was full of substantial and candid programs.  And now the newspaper headlines have started to resemble propaganda times.  There are no alternatives visible, and this is frightening.  I can speak on this for a long time, but then I'll have problems…"
It is unclear what problems Bondarchuk was referring to, and what the consequences of the director's words will be.