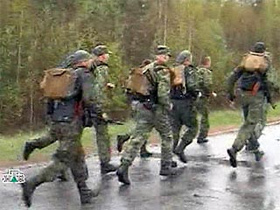 On April 16th, Russia formally ceased counter-terrorism operations in Chechnya, putting an official end to a nearly ten-year campaign.  Stability in the troubled North Caucasus region, however, remains tenuous, as a small insurgency continues to simmer.  As the Interfax news agency reports, the move comes from an order by President Dmitri Medvedev.
"This step will continue to lead Chechnya out from Russia's legal framework," journalist and researcher Vladimir Voronin told the Kasparov.ru online newspaper.  Voronin said the order was at once a populist measure, and a step that will allow Chechen president Ramzan Kadyrov to maintain a large deal of freedom and independence from the federal center for Chechnya.
The counter-terrorism operation in Chechnya was initiated in September 1999, after a series of apartment bombings left hundreds dead in Moscow.  The Kremlin linked the bombings to Chechen terrorist groups.  Military operations had started earlier, in the summer of 1999, after a group of Chechen insurgents invaded the neighboring Republic of Dagestan.  Active combat continued until 2000, when a largely defeated insurgency turned to low-scale bombings and clashes.
In recent years, Ramzan Kadyrov has consolidated power in the Republic, using strict military control and a wash of federal money to help rebuild Chechnya.  Rights activists have alleged that Kadyrov's regime has worked outside the law, using tactics including torture and kidnapping against perceived enemies.
Grigory S. Shvedov, the editor of the Web-based news service Caucasian Knot, told the New York Times that the on-the-ground situation in Chechnya remained tense.
"The number of bombings, terrorist attacks and murders as in the past remains high; they occur every week," Shvedov said. "It is a fairytale that Chechnya has become a stable region."