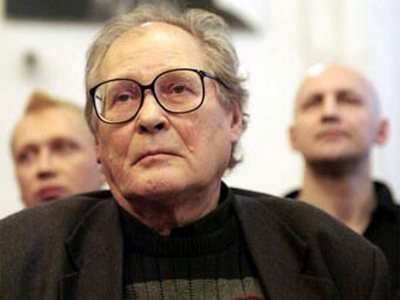 Sergei Kovalev, the chairman of the Memorial Human Rights Society, argues that political violence has become a common occurrence in Russia, and that authorities are largely to blame.  In an open letter to President Dmitri Medvedev, Kovalev describes the growing prevalence of neo-nazi elements in the country, and wonders if Russia is returning to a neo-Soviet system where people are divided into "social allies" and "socially alien elements."
The letter was first published in the Yezhednevny Zhurnal online newspaper.
An open letter to Russian President D. A. Medvedev
Sergei Kovalev
April 3rd, 2009.
Yezhednevny Zhurnal
Mr. President!
On the night from March 31st to April 1st, 2009, Lev Alexandrovich Ponomarev, a former deputy in the Supreme Soviet of the RSFSR and later the RF [Russian Federation] State Duma, was brutally attacked.  [Ponomarev], a public figure and democrat widely renowned in the country and past its borders, has an outstanding and incontestable reputation in the human rights community.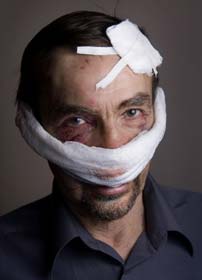 There is no doubt in anyone's minds that this reprisal has a patently political character.  Politically motivated violence and even murders have more often than not become a commonplace part of our day-to-day lives.  I won't remind you of the long and shameful list of political reprisals –your assistants can easily make it available to you in full detail.
But what jumps to attention –when the political motives for a reprisal are unmistakable –is that the victim is always a critic or opponent of authorities.
Why is this, mister President, what do you think?
I won't delve into the suspicions that the state intelligence agencies are directly involved in these reprisals.  Although the civil society not only has a right, but must in fact keep these kinds of suspicions in mind (our national history points at them a bit too stubbornly).  But this is a separate, extremely complex, and intentionally complicated issue.
In this, my appeal to you, mister President, I'll suffice with a version of events much milder for your regime.  It is entirely possible that neo-fascist thugs beat Lev Ponomarev.  They certainly weren't habitual criminals from the penal system: first of all, jailbirds are more than just cold to authorities, you'll have to believe me.  Second of all, Lev Alexandrovich is widely known, even in prisons, as a very energetic (and at times successful) fighter against arbitrariness and abuse in the prison system.
And so, it is quite likely that it was fascists?  But here's a question -why do they love your regime so much, mister President?  Doesn't this disturb you?  Are we returning – and even quite quickly – to the unforgettable epoch of the "socially alien elements" and "social allies?" [a reference to the early Soviet penal system, which separated prisoners into classes based on their backgrounds].  We, of course, are the "socially alien elements," whatever you may call us – liberals, the opposition, human rights activists, "dissidents," independent civil activists.  This is natural.  I, for one wouldn't think to part with the privilege of being alien to our current political elite. But these scum, who beat people in their courtyards and shoot them in their doorways, they've in fact already become embedded on your list of "social allies."
I won't bring up any of the evident examples of the cynical laissez-faire leniency toward the criminals.  There are many examples, they are well known, and I won't clutter a short open letter with them.
They love you so much, because this leniency, without words, without the out-of-place candidness of the Stalin epoch, but with the complete clarity comprehensible to a malicious, dull bastard, clearly demonstrates a deep inner connection, a nearly full equality between your ethos and values with theirs.
What comes to mind, for instance, when one sees how the "Blagoveshchensk affair," where the militsiya beat and tortured several hundred residents, was investigated (speaking of which, L. A. Ponomarev played perhaps the leading role in the effort to force authorities to seriously take on the investigation).  In any civilized nation, a much smaller incident of police abuse of power would shake-up the government, but our (that it so to say, and excuse me, your) [Minister of Internal Affairs Rashid] Nurgaliyev receives titles and awards and doesn't turn a hair.
In what other country would a person accused in a brutal political murder, which was not refuted in court, be sworn in as a member of Parliament?
And here's a case from the courts – two RF government (and naturally, very special) agents blew up a car in Qatar, killing a man and child.  They were tried, convicted, and at Russia's request, extradited to serve their sentences at home.  In Moscow, the patriots were met with considerable esteem.  And I'd like to know where they're serving their court-ordered sentences?  It seems to me that we'd more likely find them in the lists of those secretly awarded, than arrested.
Do our home-bred fascists have any reason to doubt that they are the "social allies?"  It stands to reason, by the way, that "Gods may do what cattle may not," but they understand this perfectly well – they won't carry polonium to London and won't carry TNT to Qatar.
Few people can believe your solemn pathos, mister President, about freedom which is better than unfreedom.  Court cases would be more convincing, but everything seems to work backwards with them.  Despite the pathos of your speeches (or maybe together with the pathos), our political practice wakes disgusting tendencies in our society.  You can't tell anymore, where the intelligence agencies are, and where it's simply fascists.  And after that, the understanding of the Law becomes connected with hypocrisy.  This is catastrophically dangerous –it is criminal not to see where this leads.  And the authorities are always guilty in this.
Having disturbed you, I didn't hope at all that my letter could change anything.  But, I think, however, that simple things should always be pronounced outright.
April 1-2, 2009.
translation by theotherrussia.org