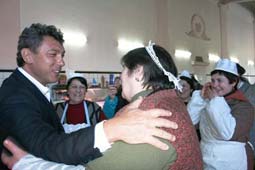 Boris Nemtsov, an opposition politician running for mayor in the Black Sea resort town of Sochi, is facing stiff resistance on the campaign trail.  But the pressure isn't coming from the 12 other candidates who have so far tossed their hats in the ring.  Nemtsov, a board member of the Solidarity movement, has instead been beset with pranks, provocations, and what seems to be a local unsaid order to stonewall his effort.
First, Nemtsov, 49, was barred by police from attending a public meeting of local businessmen on March 17th, according to the Interfax news agency.   The former Deputy Prime Minister and governor of the Nizhny Novgorod region wasn't intending to speak, but officers stopped him at the door, insisting that prior registration was required.  Despite vocal protests from a group of participants that prior registration was not necessary, Nemtsov was not allowed in.
Next, a mock debate of four mayoral candidates scheduled to run on March 22nd was pulled from the NTV television station.  Writing in his LiveJournal blog, Nemtsov alleged that the clip was cut on personal order of Vladislav Surkov, a close aide to Prime Minister Vladimir Putin.  Instead of the 7 minute segment, which asked candidates to explain their positions and delved into the Sochi election, the channel repeated a program on "young stars of show-business."
Finally, unknown youngsters splashed the politician with a liquid smelling strongly of ammonia Monday, according to the Ekho Moskvy radio station.  Nemtsov, on his way to a press-conference, was sprayed in the face, and had to postpone his event to wash his eyes clean.  Ilya Yashin, a top figure in Nemtsov's campaign, was also soaked, and blamed the provocation on the pro-Kremlin Nashi youth movement.  Nemtsov himself commented that authorities were simply scared of his candidacy.
Sochi, scheduled to host the 2014 winter Olympics, saw two mayors resign in 2008.  Residents have complained that Olympic preparations have been handled in a corrupt way, and that locals have been forced out of their homes to make way for construction projects.  Whoever becomes mayor will have to handle a multi-billion dollar budget allocated to create an Olympic village.
For his part, Nemtsov has proposed decentralizing the games, and holding only the opening and closing ceremonies in Sochi.  In an open letter to President Dmitri Medvedev (Rus), who is visiting the region, Nemtsov suggested that the burden of the Games should be spread between roughly a dozen cities.  Sochi does not have the necessary infrastructure to host the games, Nemtsov argues, adding that the budget for the Sochi Olympics is vastly higher than previous Winter Games.  The environmental effects on Sochi may also be devastating, he notes.
Nemtsov, who was born and raised in Sochi, said he decided to run for mayor after a group of residents wrote him an open letter asking that he enter the race.  Aside from Nemtsov, several other colorful figures have stepped forward, including murder suspect and Parliamentarian Andrei Lugovoi, and billionaire Alexander Lebedev.  Other contenders include an airline chief, an arm wrestling champion and a former ballerina, a combination that has sparked considerable country-wide interest in the election.
Anatoly Pakhomov, a member of the United Russia and the city's acting mayor, is thought to have high chances due to his connections with the majority party.
The weeks leading up to the April 26th elections will undoubtedly see further issues and problems for Boris Nemtsov.  Despite the set-backs, the Kremlin critic has drawn out a plan of localized campaigning and maintains a cheerful disposition.